The Canadian Shield Could Host The Next Bonanza Discovery: Eric Lemieux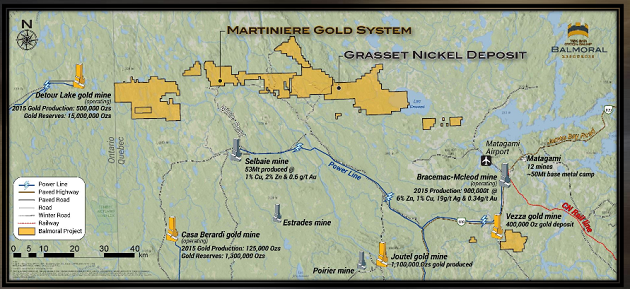 Balmoral location map. Courtesy of Balmoral Resources.
Balmoral has the whole Detour Trend project land package to continue to pursue gold discoveries. It has gold optionality with Martiniere, Bug Lake and Lac du Doigt, and I suspect it will have other discoveries. Balmoral is another example of being well positioned at the right moment with the financial capacity and will to advance assets.
TGR: Any parting thoughts?
EL: The spotlight is on the Canadian Shield right now; it still has a lot of potential and we could see some new world-class deposits emerge. When I was at PDAC a few weeks ago, and also when I was at the Cambridge House conference in Vancouver in the beginning of the year, there were a lot of things going on up in Northern Canada, including Agnico Eagle Mines Ltd.'s (AEM:TSX; AEM:NYSE) Amaruq deposit near Meadowbank. Other companies are also working in Northern Canada, mostly on what I would consider greenstone belts, many of which have not been worked a lot. These jurisdictions are safe and stable, so they do hold an attraction for major companies.
TGR: Eric, thank you for your time.
Eric Lemieux is a consulting technical advisor to Peartree Securities Inc. of Toronto. Previously he was a mining analyst with Laurentian Bank Securities. He worked for nine years as a consultant responsible for applying Regulation NI 43-101. He has worked at the Montreal Exchange, and prior to that managed exploration projects for Cambior, Noranda and Soquem. He holds two master's degrees, in mineral economics from the Colorado School of Mines and in metamorphic-structural geology from Laval University.
Disclosure:
This article does not constitute investment advice. Each reader is encouraged to consult with his or her ...
more