The Basis Behind The Forming ECB 'Pause'
This fissure was exacerbated by ECB policies that didn't (couldn't) solve the main issue – global monetary tightness in the form of balance sheet constraints. In Europe as the US, the central bank ended up flooding the banking system with useless, inert bank reserves. The result in euros was an ever-descending trajectory for "money" rates, first disobeying the MRO's placement and before just dropping way out of line.
The lower they fell the more the media and central bankers themselves fell into the trap. Being described as "ultraloose" and "stimulus" what you find (below) instead is something very different indeed.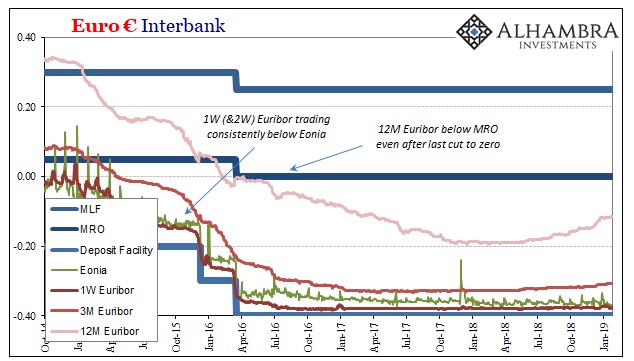 Banks dumped these reserves on these markets after filling up their current and deposit account ledgers; all of which works out too often highly negative "yields." It's the one thing central bankers don't seem able to really grasp, why in the world financial would be doing this and then keep doing this year after year after year.
The theory was simple enough; provide so much "liquidity" banks (Europe's banking system represents and covers nearly the whole of the financial system unlike the US) no longer fear liquidity risk. No need to worry about another 2008, or 2011, did you see all those bank reserves! Having been reassured, they can get back to the big business of finance and economy
Economists and every central banker is one, don't seem to understand that persistently negative money rates are banks saying, "no, we aren't going to do that."
And, by the way, they haven't. Lending remains at best slightly positive and in some places like the business sector (loans to NFC's, or non-financial corporations) it continues to be a disaster no matter what the ECB does (or doesn't do).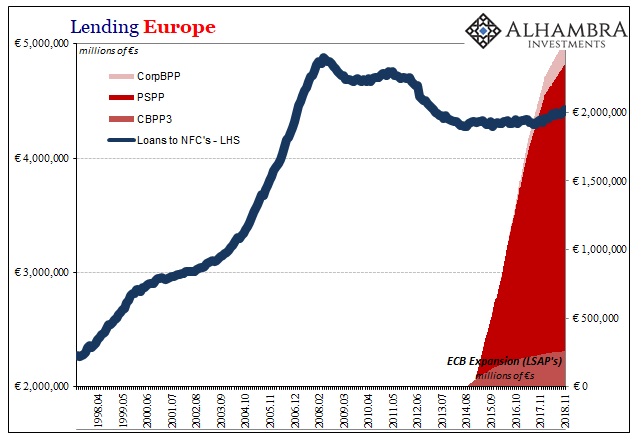 European banks would rather swap government bonds (and other assets) to the ECB picking up pennies on the transactions because it is predictable and tolerable, all the while holding trillions in bank reserve assets "paying" out negative rates than they would lend into the European economy even a little. The risks are way too high, perceived liquidity risks primarily, and the returns far too low (no booming economy no matter what Draghi has said).
Disclosure: This material has been distributed for informational purposes only. It is the opinion of the author and should not be considered as investment advice or a recommendation of any ...
more