The Basis Behind The Forming ECB 'Pause'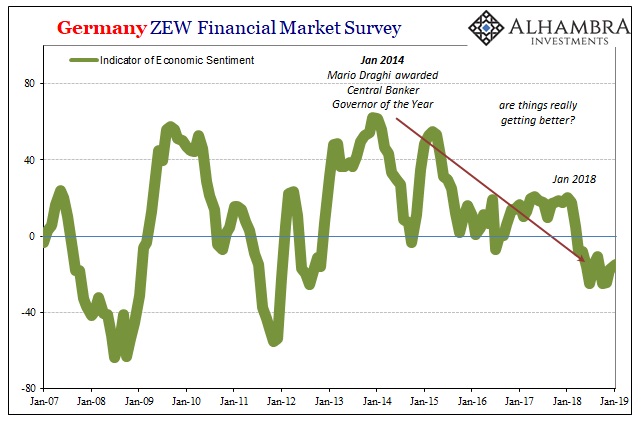 What has changed is the same panel's assessment of Germany's current economic condition. As sentiment remains low, the German economy is slowing to meet it not the other way around (the economy stays robust and sentiment improves over time as worries recede in a matter of Draghi's transitory factors).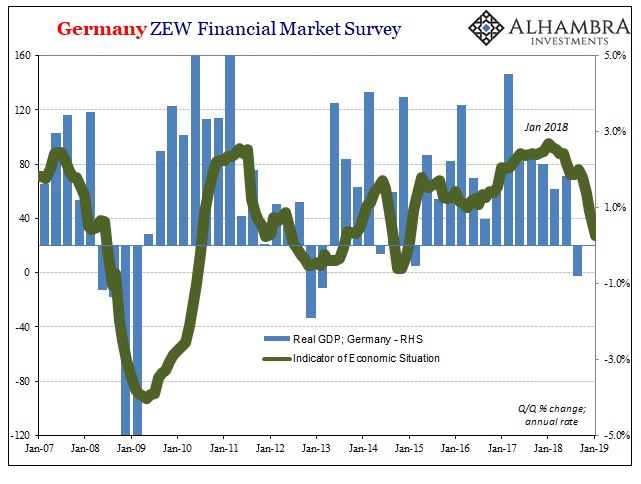 It is in every way reminiscent of 2011-12, soft data matching hard data already there. Officials will say this is "country-specific" weakness, but does Europe really boom without its German center participating? That scenario is already doubtful, let alone the chances of one where Germany acts as a huge drag upon the rest of the Continent.
Besides, as noted yesterday, PMI's and other data (such as IP) already show contrary to Draghi's desperate wishing the downturn is already long and broad.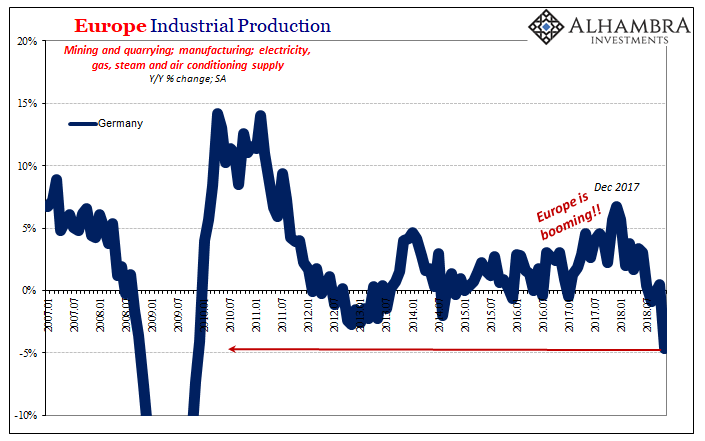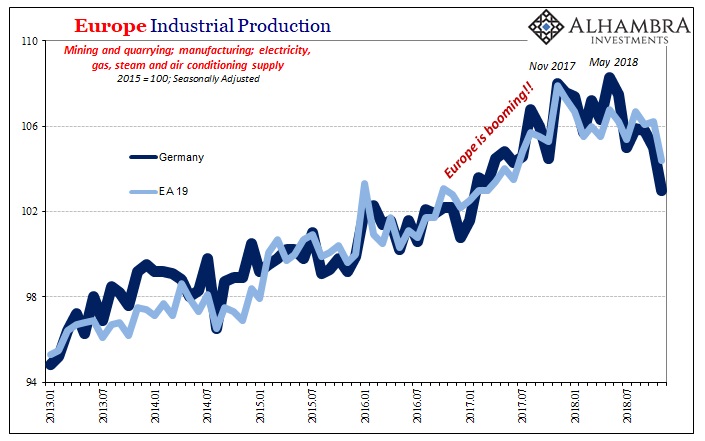 As the current seat holder, you can appreciate Draghi's reluctance to admit to the substance of the problem he now faces. For those seeking to replace him, credibility will matter quite a bit more. Draghi will say transitory while the others are in the driver's seat for the ECB pause.
All of which should begin raising questions about QE and what it accomplished. In the real economy, nothing. About the only concrete result attributable to it is just how messed up European money markets have become. They weren't in great shape before the PSPP, they are surely worse now.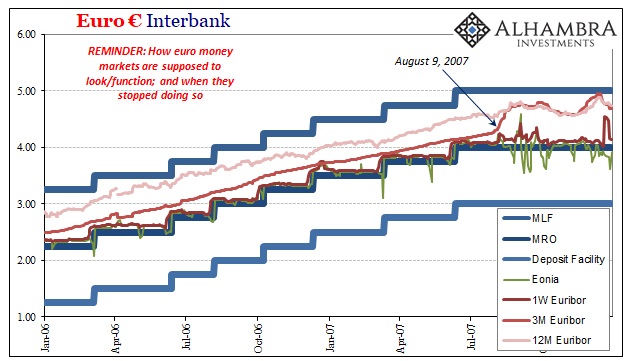 It's been so long in Europe since money markets kept to working order, we often have to go back and show people how things are supposed to function. The ECB has three distinct mechanisms for controlling money market rates and making markets conform to its policy dimensions.
The Marginal Lending Facility stands on top, an actual ceiling (unlike IOER).
In the middle is the MRO, or Main Refinancing Operation rate. As a collateralized window, unsecured money rates such as Eonia (overnight) or any Euribor tenor should fall in above it. As you can see above, that's how it used to be. After August 9, 2007, in euros as dollars and eurodollars, money market hierarchy has broken down.
Disclosure: This material has been distributed for informational purposes only. It is the opinion of the author and should not be considered as investment advice or a recommendation of any ...
more