Thai Stock: Improved Profitable Growth At HomePro
Background
Home Product Center Public Company Limited is a Thailand-based retailer of building materials and home improvement products under the name HomePro. HMPRO has 99 stores nationwide, with most in greater Bangkok and upcountry.
(Click on image to enlarge)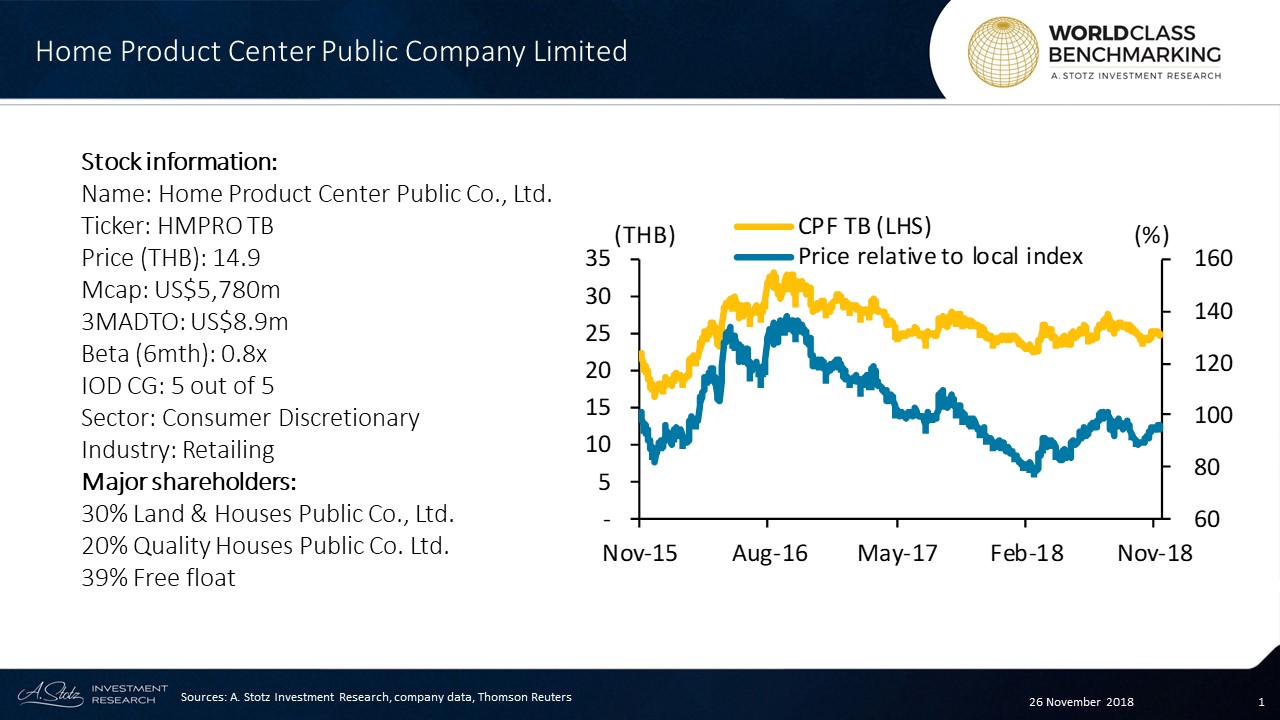 Its Hard line unit (home item) accounts for 70% of revenue, Soft line unit (decorative item) 17%, and 13% from subsidiaries.
Business Description
HMPRO is a retailer involved in Home Servicing. Its businesses include selling goods and providing a complete range of services related to construction materials, additions, renovation.
Its operations are home improvement products (including bathroom and sanitary ware), kitchen and home appliances, electrical equipment and lighting, bedding and household decorative goods.
(Click on image to enlarge)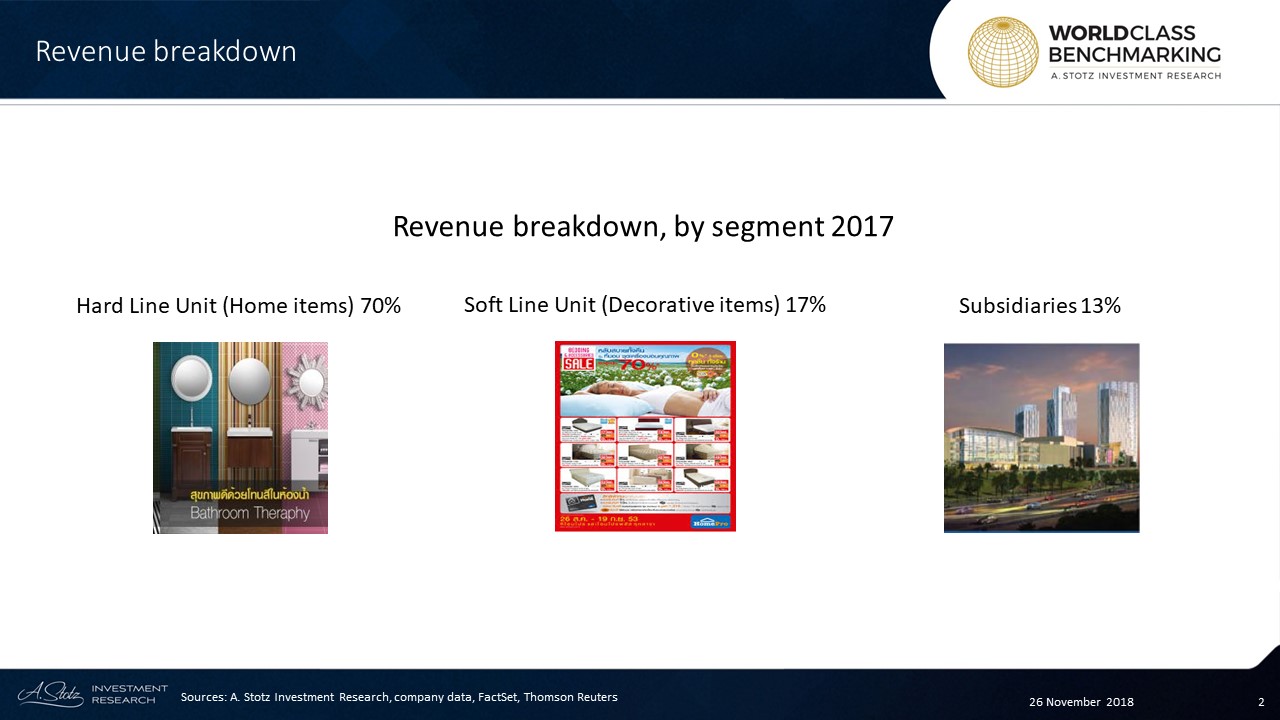 Its HomePro brand targets the end user directly, while Mega Home is a one-stop shopping center, offering a full range of wholesale and retail housing and construction products. HMPRO has over 36 private brands covering more than 3,000 items, sold at 99 outlets in Thailand and six outlets in Malaysia. The Malaysian stores haven't reached economies of scale yet and therefore not turned a profit.
The HomePro S store format, introduced in 2017, is a smaller format covering geographical areas where larger stores are not feasible. Product offerings consist of high-turnover and decent-margin products, reducing the payback period to 4-5 years versus 6-7 years for a standard store.
Leadership
Manit Udomkunatum has served as the Chairman of HMPRO since 2001 and personally holds 2.27% of total shares. He also holds chairmanship and/or directorship in a large number of non-listed companies. This includes Elysian Development Co., Ltd. and Shanghai Inn Co., Ltd. among others. He has been trained in the Directors Accreditation Program in 2004 at the Thai Institute of directors association.
(Click on image to enlarge)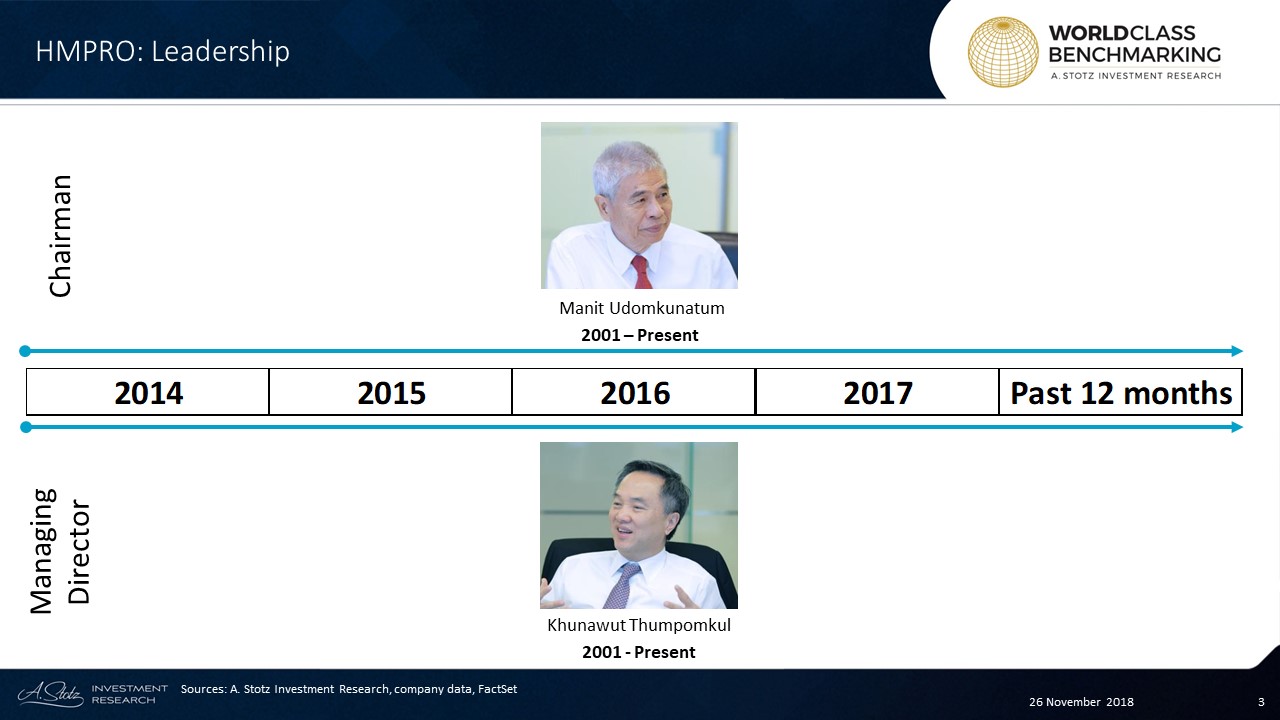 Khunawut Thumpomkul was appointed the Managing Director of HMPRO in 2001. He is also the executive director of LH Financial Group PCL (LHFG TB) along with numerous other roles in non-listed companies. He holds 1.08% of HMPRO's shares. His education is comprised of a Bachelors degree in Economics from Ramkanhaeng University, Thailand and Master of Business Administration from National Institute of Development Administration, Thailand.
Disclaimer: This content is for information purposes only. It is not intended to be investment advice. Readers should not consider statements made by the author(s) as formal recommendations and ...
more