Stock Markets Look To Earnings And FOMC, DAX To Eurozone GDP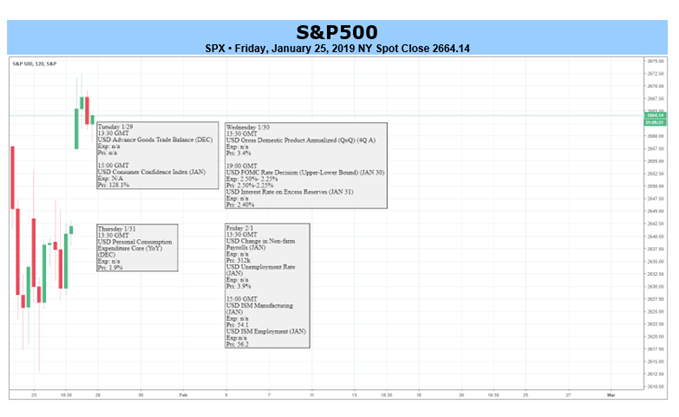 Equity Fundamental Forecast: Mixed
Earnings have been a source of optimism for equities and the trend may continue if giants like Apple and Amazon impress investors this week
The DAX will look to Eurozone GDP and German employment data which could provide more insight on a potential German recession
Italian GDP and Eurozone CPI may also impact the European equity markets beyond the FTSEMIB
AMAZON, MICROSOFT, APPLE AND OTHERS WILL DRIVE US EQUITIES
Last week was relatively stable for US indices as they closed Friday moderately higher than they opened Monday. Despite a prolonged government shutdown that is sapping GDP from the country, domestic indexes pushed higher. Strong earnings from airlines and some chip makers buoyed the broader market while other sectors slipped on global growth concerns. In the week ahead, earnings will look to drive price action once again.
Over 440 corporations will report earnings next week with FAANG members Amazon, Apple and Facebook included. Other corporate behemoths like Caterpillar and Verizon have the potential to sway entire sectors on their own. With that in mind, performances from these companies could greatly influence the overall price action of the market.
Thus far, earnings have been generally positive. Given the concerns of global growth and trade wars, relatively on-target performances seem to be more impressive than in prior quarters, at least from a sentiment perspective. With this new-found leeway, on-target earnings in the week ahead could be all that traders require to continue the recent bull trend even as the January effect wanes.
S&P 500 PRICE CHART DAILY, FEBRUARY 2018 – JANUARY 2019 (CHART 1)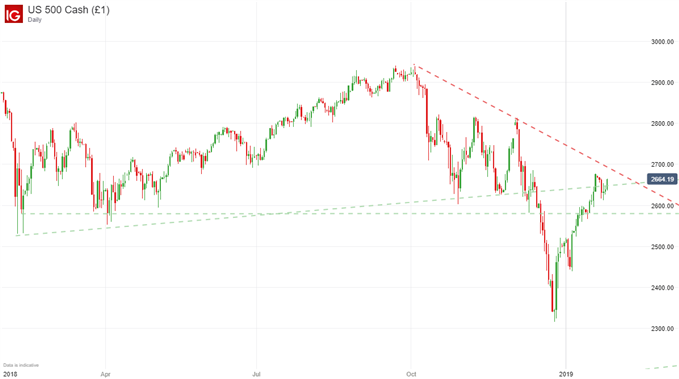 Another upcoming event for the S&P 500 is Wednesday's FOMC decision. While a change in the interest rate range is out of the question a change in tone, particularly to the hawkish side, could spell disaster for the US indexes. Luckily for bulls, it seems rather unlikely such a tone would be struck given the government shutdown implications on GDP and the fragile state of the equity markets.
Disclosure: Think the stock market is headed for a crash
?