Spain: How Will Tourism Support The Recovery?
A safe health situation is obviously important for domestic tourists. In 2020, spending by domestic tourists halved compared to 2019, from €60bn to €30bn. As the state of alert and restrictions to travelling between regions has now been annulled, domestic tourism will be able to recover. It will probably get an extra boost, as some Spaniards will opt to stay in Spain for the holidays. We expect total spending by domestic tourists will recover to €50bn in 2021.
The health situation within Spain is also crucial for international tourists as other countries could determine that travelling to the country is too risky and make it illegal or more difficult to do so. The UK, for example, recently left Spain on the list of countries where travellers need a negative test on arrival, a 10-day quarantine period and two tests at home. There were about 18 million British tourists in 2019, which was about 26% of all international tourists. This dropped to about three million in 2020. If this UK decision continues during the summer months, it will have major repercussions for the Spanish economy. But this is not our base case. We expect Spain to be reclassified in the coming weeks if the health situation remains benign.
Number of international tourists in Spain from various countries in 2019 and 2020
(Click on image to enlarge)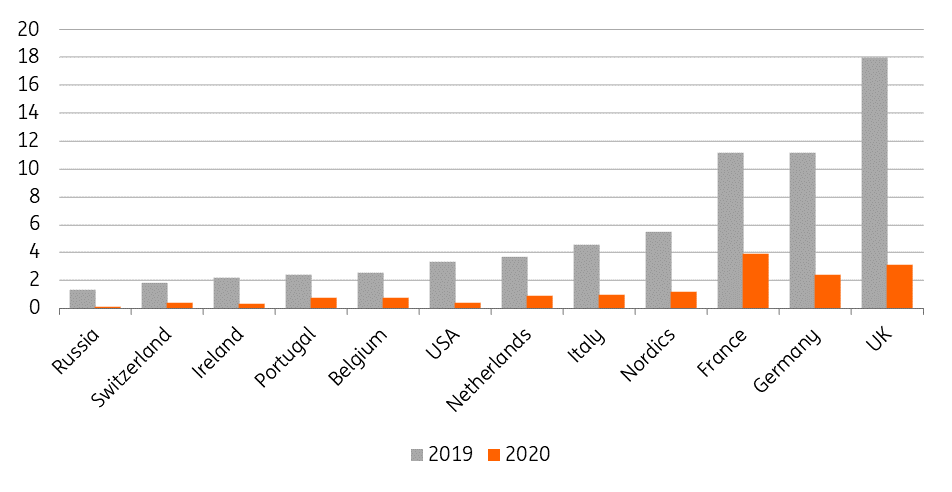 Source: Instituto Nacional de Estadística
A travel passport will help
For travellers from the EU27, who make up the largest percentage of international tourists visiting Spain, a travel certificate will be crucial. Luckily, the EU recently agreed on a travel certificate for people who received a vaccine, have a negative test or are immune after recovering from Covid-19. Now the focus will move toward the technological hurdles. Indeed, it is not an easy task to have a system that is compatible at the pan-European level. Currently, there is a dry run to test the technology involving a number of EU countries, including Spain.
For now, we believe that the Covid-19 certificate will be ready by the summer. This implies that EU tourists will be able to travel more smoothly to Spain from the end of June onwards. This, however, will only be the case if the health situation has not deteriorated.
Interestingly, the EU system could be linked with non-EU countries. The European Commission has close contacts with, among others, the United States and the World Health Organization, to allow the certificate to be used more widely. This is also important for Spain as more than 20% of international tourists in 2019 were non-EU and non-UK.
For non-EU and non-UK tourists the situation is obviously more complicated. The health situation of the specific country will be crucial. But we think that most travellers will probably opt to stay relatively close to home and so the number of tourists from the US, for example, will recover more slowly. On top of that, the use of EU certificates will probably be used by non-EU tourists at a later date than Europeans themselves.
Disclaimer: This publication has been prepared by the Economic and Financial Analysis Division of ING Bank N.V. ("ING") solely for information purposes without regard to any ...
more