South Africa: A Refreshing Budget But Challenges Lie Ahead
On the revenue side, better than expected performance since October has allowed the National Treasury to scrap its previous plans to raise ZAR40bn in additional tax revenues and instead come up with some relief through an above-inflation increase in the personal income tax brackets (by 5%). The estimated ZAR2.2bn of foregone revenues are expected to be offset through an increase in indirect taxes (excise duties and export tax on scrap metal). In the budget statement, Finance Minister Mboweni also announced a 1ppt reduction in corporate income tax to 27% from April 2022. All in all, the main budget revenue is expected to recover somewhat, averaging around 25.5% of GDP in the medium term (see chart below).
On the spending side, while there are some additional outlays in the 2021 budget primarily for the vaccine rollout and Covid-19 measures, the baseline for the main budget non-interest expenditure over the medium-term has been reduced by ZAR265 on a net basis since last year's budget. Achieving this remains contingent on wage talks with unions later this year (the 2020 budget foresaw compensation reductions of ZAR160bn for 2020/21 to 2022/23 and the MTBPS proposed a further ZAR143bn downward adjustment between 2021/22 and 2023/24). All in all, this would yield a reduction in the share of the main budget non-interest spending by nearly 6ppt over the medium-term to 26.2% of GDP in 2023/24 (see chart below). However, debt service costs rise unabatedly over the next years to 5.6% of GDP or 22.2% of revenues by 2023/24 (from 4.7% and 19.4% in 2020/21, respectively).
Main budget revenues vs spending (% of GDP)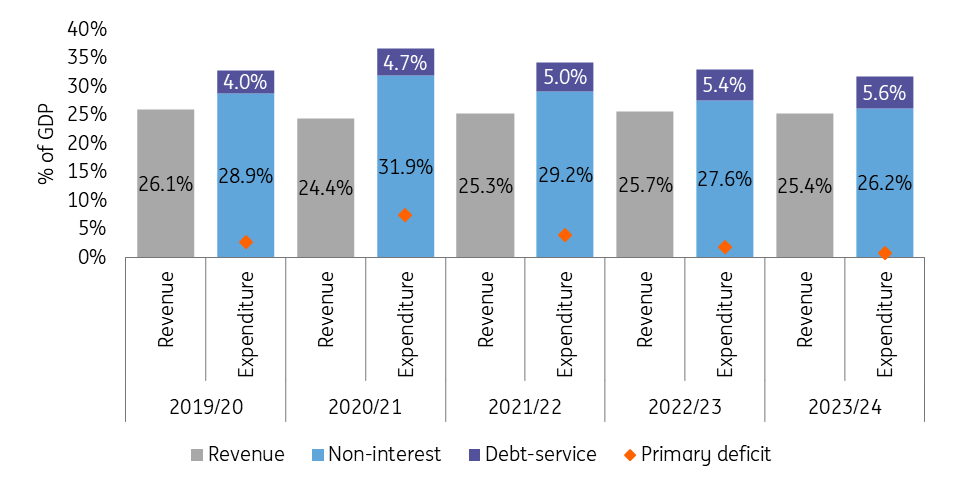 Source: National Treasury, ING
Gross borrowing needs are set to fall after a record ZAR670bn in 2020/21, reaching ZAR548bn in the upcoming fiscal year (see chart below). They are set to remain in the ZAR540-560bn area in the medium-term, marking a permanent increase to pre-pandemic fiscal years (ZAR416bn in 2019/20). For investors, the good news is that the government's borrowing spree has resulted in an increase in the cash balance (by ZAR59bn) which will be used in upcoming years and reduce debt issuance. In international markets, the government plans to raise US$10bn over the medium-term (US$3bn in 2021/22 and 2022/23 each, and US$4bn in 2023/24). Finance Minister Mboweni also indicated a preference for lower-cost funding from international financing institutions and said that loan talks with the World Bank remain ongoing.
Gross borrowing requirement and financing (ZARbn)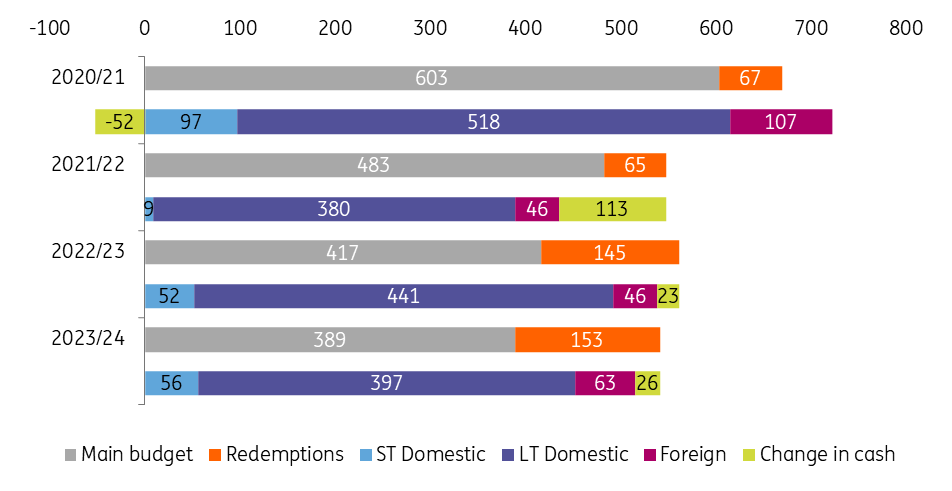 Source: National Treasury, ING
After the budget celebrations, fiscal reality awaits again
The 2021 budget intends to capitalize on the good news in recent months in order for the government to provide some measured tax relief without having to compromise on its fiscal consolidation commitment. Indeed, the medium-term outlook appears better than it did in the October 2020 MTBPS, with debt stabilizing below 90% of GDP. Good news also comes on the funding side with a reduction in domestic debt issuance going forward thanks to higher cash buffers and decreasing borrowing needs.
However, the 2021 budget does little to change the debt sustainability picture, the key challenges ahead are the following:
1
The National Treasury's main consolidation effort singles out public sector wages as the key area but unions are starkly opposed to last year's proposal to freeze wages up to 2023/24. Moreover, this issue could also test the alliance between the ruling African National Congress (ANC) and the Congress of South African Trade Unions (Cosatu). With wage talks expected to start soon, the following months could shape up as consequential for budget viability.
Disclaimer: This publication has been prepared by ING solely for information purposes irrespective of a particular user's means, financial situation or investment objectives. The information does ...
more