South Africa: A Refreshing Budget But Challenges Lie Ahead
Despite some good news in the 2021 budget, challenges in restoring debt sustainability remain ahead of us, notably in tackling public sector wages, Eskom's weak operational and financial state, and low growth potential.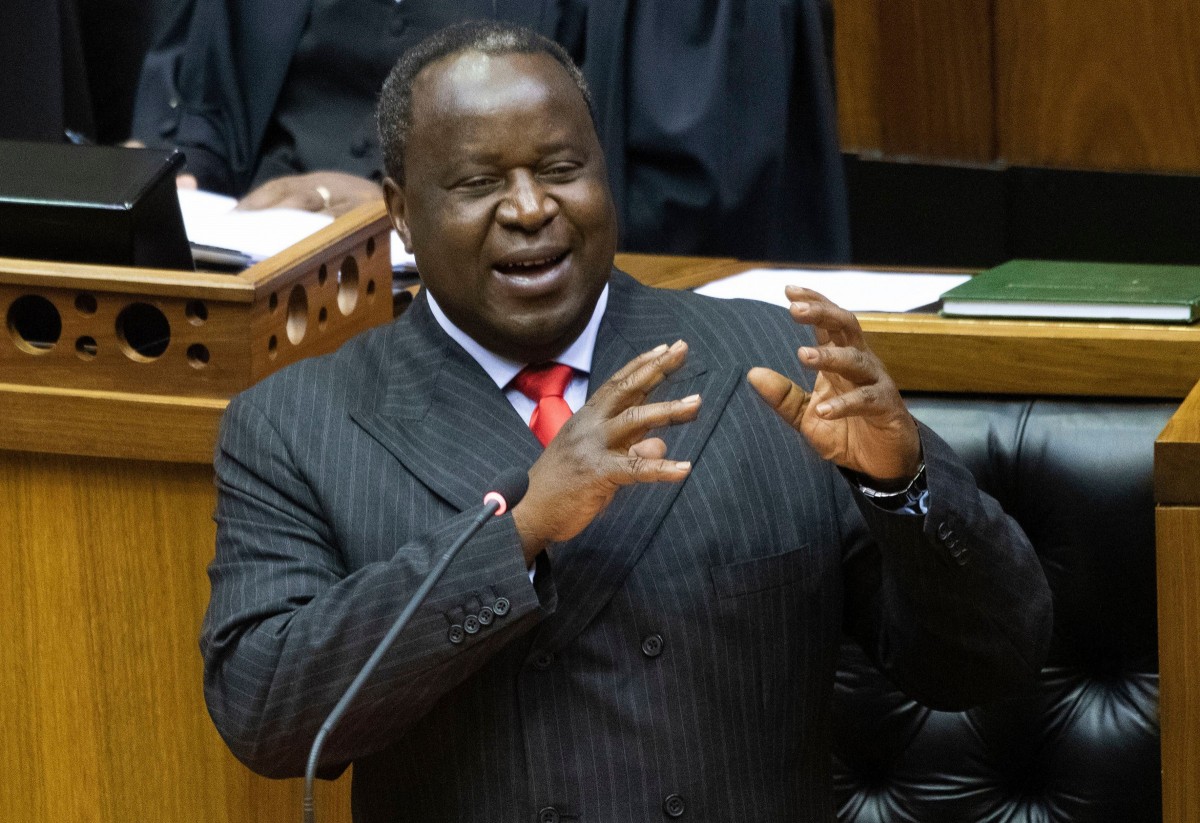 Source: Shutterstock
Finance Minister Tito Mboweni delivers the budget statement, Cape Town, South Africa
Summary:
South Africa is among the most negatively impacted emerging market economies by Covid-19 with a GDP growth contraction of 7.2% and a 14% of GDP budget deficit, lifting government gross debt by 17ppt to 80.3% of GDP by March 2021.
The budget deficit is expected to narrow to 6.3% of GDP by FY2023/24, debt will stabilize at 89% of GDP by 2025/26 and a primary surplus will be reached a year earlier.
The National Treasury doubles down again on fiscal consolidation plans, however, challenges lie ahead and we identify upcoming wage negotiations, the state of Eskom, and economic reforms as the key ones.
Markets initially reacted positively to the 2021 budget as it marks an improvement vs the October 2020 Medium-Term Budget Policy Statement (MTBPS) in terms of revenue collection, government borrowing, and planned tax measures, however, South African risk assets are among the most vulnerable to shifts in EM sentiment.
ZAR strength this year has surprised us but the currency is on the front line of any broad-based sell-off in EM FX. We have an end-year USD/ZAR forecast of 16.00.
National Treasury vs SARB, IMF and rating agencies macro and fiscal projection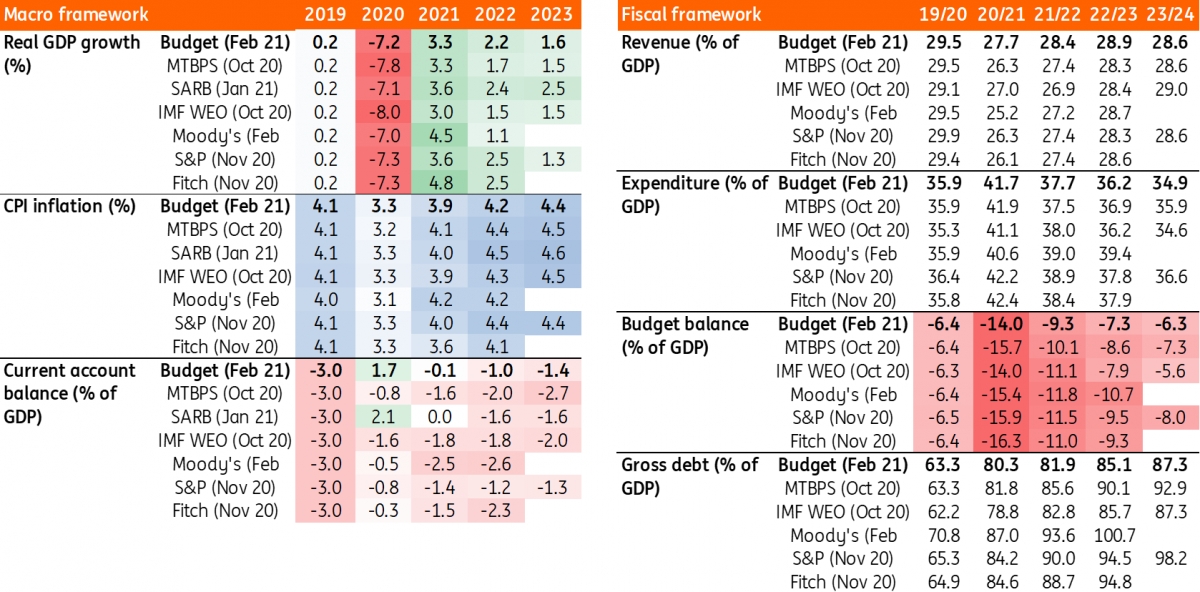 Source: National Treasury (consolidated fiscal framework), SARB, IMF, Moody's, S&P, Fitch, ING - * Moody's gross debt figures include guarantees on Eskom and SANRAL
Budget shows better tax revenues and reaffirms spending cut plans
In a broader EM context, the fiscal damage caused by Covid-19 has been among the largest in South Africa, with the National Treasury forecasting a budget deficit of 14.0% of GDP for 2020/21, lifting gross debt to 80.3% of GDP (vs 63.3% in March 2020).
However, when we compare the new estimates to those made by the National Treasury only four months ago, things don't look as bad anymore (the MTBPS foresaw a 15.7% of GDP budget deficit bringing gross debt to 81.8% of GDP). On the economic front, the GDP contraction has turned out slightly shallower at -7.2% (vs -7.8% in the MTBPS). On the fiscal side, tax revenue collection came in ZAR100bn above the MTBPS estimate. And with the Labour Appeal Court having reaffirmed the National Treasury's decision not to implement the 2020/21 wage increase, upside risks on expenditures were contained.
The National Treasury has also become a bit more optimistic on the medium-term outlook, affirming its 2021 growth forecast at +3.3% but slightly lifting its expectations for 2022 and 2023 upwards (to +2.2% and +1.6% vs +1.7% and +1.5% in the MTBPS).
Budget deficits over the next three years are seen 1ppt lower each year on average compared to the MTBPS but remain high at 9.3% in the upcoming fiscal year (2021/22) before falling to 7.3% in 2022/23 and 6.3% and 2023/24. With the primary surplus being achieved earlier than previously anticipated (in 2024/25) and gross debt/GDP still stabilizing a year later but at a lower level of 89% (vs 95% in the MTBPS), Finance Minister Mboweni was also able to present some wins.
Gross debt outlook under February 2021 budget vs October 2020 MTBPS (% of GDP)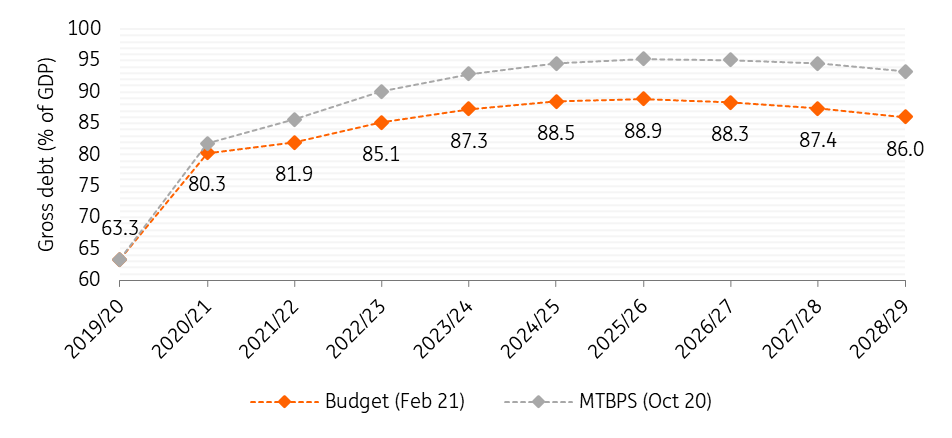 Source: National Treasury, ING
Disclaimer: This publication has been prepared by ING solely for information purposes irrespective of a particular user's means, financial situation or investment objectives. The information does ...
more