Some Surprising Facts About Energy
Japan's consumption of nuclear power dropped to zero in 2014 following the 2011 Fukushima disaster. But they have pragmatically been restarting nuclear plants since then. Following power shortages this winter, Japan's energy minister said nuclear was crucial to the country's emission goals.
Solar panels, windmills and batteries will demand more of certain key minerals, of which U.S. reserves are negligible. We have no cobalt (over half is in Congo); 4% of the world's lithium (Chile has over half) and 1% of the planet's rare earth metal reserves (China has 35%). Having reached energy independence, policymakers will need to consider the geopolitical consequences of becoming dependent once more on other countries for key energy inputs.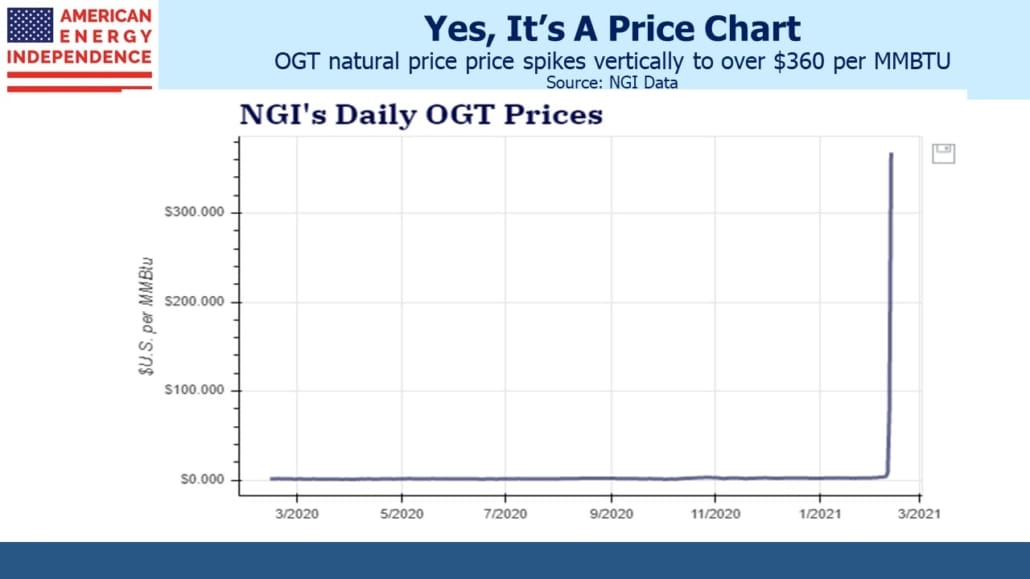 Recent cold weather in the U.S. has once again exposed the fickle nature of renewable power. Its intermittency means its often available but not always when you need it most. Texas expects to see record electricity demand over the President's Day weekend. However, the chill has reduced windmills' share of power generation from 42% to 8%, as ice has impeded their operations. Natural gas (UNG), always there to compensate for weather-related unreliability, tripled its contribution to Texans' electricity needs.
North Asian LNG prices exceeded $35 per Million BTUs (MMBTU) during a cold snap in January (see Asia Leads Natural Gas Demand). On Friday, natural gas on the Oklahoma Gas Transmission line (OGT) touched $600 per MMBTU intra-day on Friday, settling at over $360. The Henry Hub benchmark closed at $2.91. Few fans of renewables will factor this cost in when promoting how "cheap" wind power is.
The world is using more of every kind of energy. China's electricity consumption grew at 7% p.a. over the past decade. An energy transition that makes the most of natural gas is one that's likely to succeed. A fund backed by Bill Gates recently backed start-up C-Zero, which aims to split natural gas (methane) into hydrogen, which it'll burn, and solid carbon which it will bury. Since combusted hydrogen only produces heat and water, it's zero-emission energy. There are many R&D efforts to use natural gas cleanly, often by capturing the emissions before they enter the atmosphere. The U.S. and our pipeline sector are well positioned for it.