Some Surprising Facts About Energy
Coal is cheap, easily handled and ubiquitous. Because coal is found in so many parts of the world, coal trade is a much smaller portion of global consumption than for other fuels such as crude oil. OECD countries could decide to stop exporting coal, but they won't. Australia exports 86% of its production. China's domestic production (79.8 Exajoules) approximately equals its consumption (81.7 Exajoules).
Australia possesses 14% of the world's coal reserves. China has 13%. Should Australia leave most of theirs in the ground, slashing exports and pushing up prices on the dirtiest fossil fuel, thereby promoting switching to cleaner alternatives such as natural gas? Should China, consumer of half the world's coal, leave theirs in the ground? The U.S. possesses 23% of the world's coal, and will burn more of it to generate power this year and next than in 2020, according to the Energy Information Administration (see Emissions To Rise Under Democrats). Coal's continued prevalence around the world mocks all the media hype over solar panels and windmills.
The U.S. is the world's biggest producer of natural gas, with around a 23% share. The big opportunity is for Joe Biden to send John Kerry, Climate Czar, around the world promoting this as a far better choice than coal.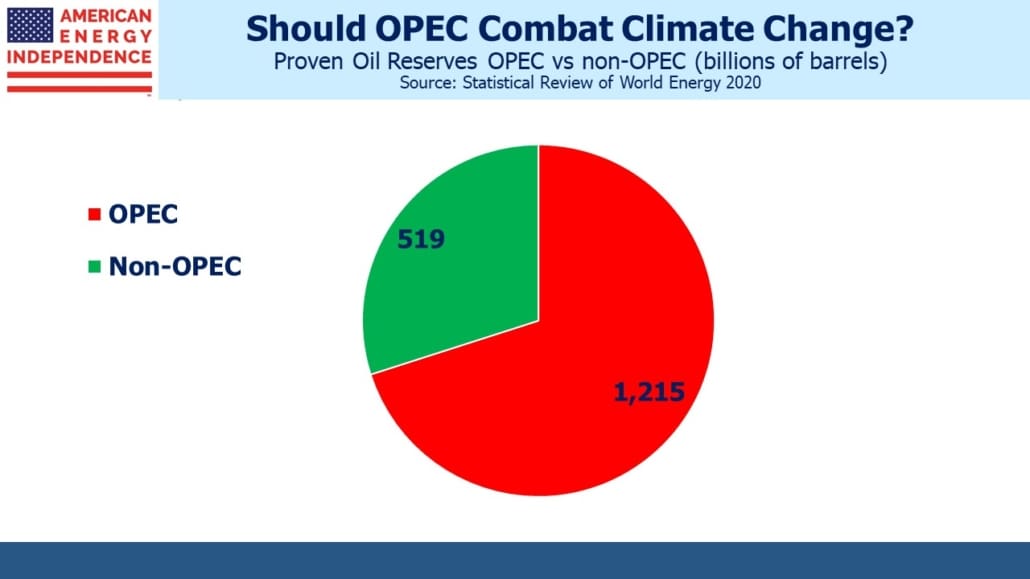 Less appreciated is our dominance in natural gas liquids (mostly ethane and propane) where we produce 40% of global output. Volumes grew at 9% p.a. over the past decade. Much of this is used by the petrochemical industry as feedstock for plastics. Propane exports are now above 1.2 million barrels per day, up over 10X in the past decade.
Climate change exposes many misalignments of interests. Developed countries are pursuing lower emissions, while developing countries like China and India favor economic growth to raise living standards, which is why their emissions are rising and offsetting reductions elsewhere. But reserves of crude oil lie predominantly in non-OECD countries too.