Shipping Container Shortages In China Crimp Exports To West
No one predicted that the shipping container industry would be absolutely on fire this year, considering China's strong economic rebound following the virus-induced downturn. Now a shortage of shipping containers in Asia are sending container spot rates to multi-year highs, has already started to crimp China exports.
Just how high can Asia-U.S. East Coast spot rates go? Well, the cost of chartering a 40-foot container from China to the US East Coast soared to nearly $5k this week, up 85% since June 1, according to Freightos data in Refinitiv Eikon.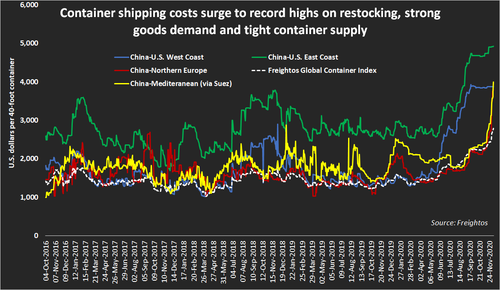 Source: Freightos data in Refinitiv Eikon
A shortage of containers in China comes as exports in the country surged 21% in November from a year ago. Chinese factories are pumping out appliances, electronics, toys, clothes, and personal protective equipment to the world.
As explained by Reuters, a "severe shortage" of containers in the Asian country is starting to hit export flows:
But due to China's lopsided trade balance - exporting three containers for every one imported recently - and delays in containers returning to China due to the pandemic overseas, a severe shortage is now starting to pinch export flows. Roughly 60% of global goods move by container, and according to United Nations trade data there are close to 180 million containers worldwide. -Reuters
Charles Xu, a mirror salesman, located in Yiwu's export hub in Zhejiang province, which supplies major US retailers, told Reuters that "we ve so many orders but just cannot ship things. Boxes are piling up at our factory and we don't have much space left. It's just hard to book containers, and everyone is bidding for them with a high price."
China Container Industry Association said the average container turnaround has jumped to 100 days from 60 days because of virus-related capacity cuts in the US and Europe, which has greatly increased the shortage of containers in China. There have already been reports of some US importers not being able to receive shipments in November.
Disclaimer: Copyright ©2009-2020 ZeroHedge.com/ABC Media, LTD; All Rights Reserved. Zero Hedge is intended for Mature Audiences. Familiarize yourself with our legal and use policies every time ...
more