Sensex Zooms 1,000 Points; Hero MotoCorp & Bajaj Auto Surge Over 9%
Titan share price is presently trading up by 7.8%.
Here's an interesting data on Titan, every Rs 100 invested in the company in 2002 would have multiplied 330 times by 2019!
Every Rs 100 Invested in Titan in 2002 Multiplied 330 Times by 2019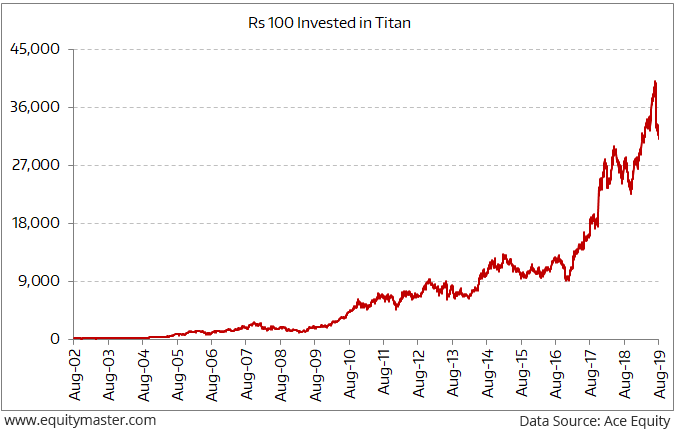 Moving on to news from the banking sector, shares of IDBI Bank surged over 10% today after the private lender said it has targeted to raise up to Rs 75 billion through rupee bond in the current fiscal.
At its meeting held on Wednesday, April 8, 2020, the Board of Directors approved the rupee bond borrowing limit of Rs 75 billion for FY 2020-21 to be borrowed in one or more tranches.
The board also approved the proposal to sell the bank's stake of up to 27% in its life insurance joint venture (JV) IFLI.
In other news, the Reserve Bank of India (RBI) has directed HDFC Bank to suspend the appointment of two directors from among its executives saying that the choice of candidates should be left to the incoming chief executive.
The bank had proposed the appointment of Sashdhar Jagdishan as an additional director and Bhavesh Zaveri as Executive Director. The two will however continue as additional directors till the shareholders meet the date for which is yet to be fixed.
The Reserve Bank of India said, "since these are important positions in the bank, the bank is advised to examine and submit the proposal after a new MD and CEO assumes charge later this year."
HDFC Bank share price is presently trading up by 3%.
Disclosure: Equitymaster Agora Research Private Limited (Research Analyst) bearing Registration No. INH000000537 (hereinafter referred as 'Equitymaster') is an independent equity research ...
more