Sensex Trades Over 300 Points Higher, Dow Futures Up By 91 Points
The state will also incentivize the setting up of charging stations via a capital subsidy of 25% or Rs 1 m, whichever is lower.
The revision in the FAME (II) policy and increasing the subsidy by 50% per KWh, is likely to accelerate electric two-wheelers sales for Ampere Vehicles, a subsidiary of Greaves Cotton.
Greaves e-mobility segment has seen higher growth momentum, with Ampere gaining popularity due to the rise in demand for its electric two-wheelers (electric scooters) and electric three-wheelers (electric rickshaws).
Ampere has more than half a dozen electric two-wheelers in its portfolio and could further gain market share with this policy.
How this pans out for the company remains to be seen. Meanwhile, stay tuned for more updates from this space.
At the time of writing, Greaves Cotton shares were trading up by 4.9% on the BSE.
Speaking of electric vehicles, note that the power ministry has approved setting up 2,636 electric vehicle charging stations across 62 cities in 24 states.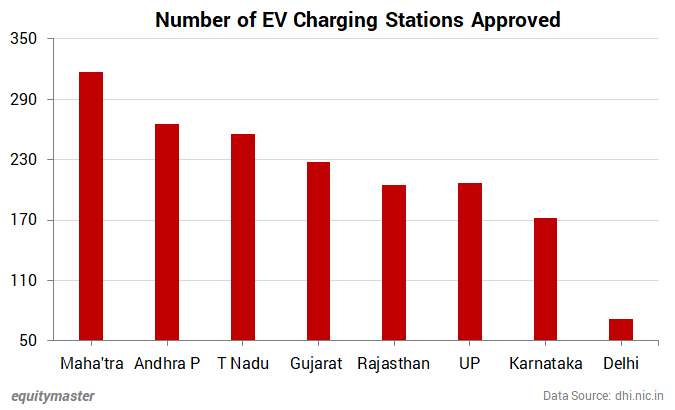 Moving on to news from the healthcare sector...
Apollo Hospital Trades in Red as March Quarter Profit Falls
Share of Apollo Hospitals Enterprises fell in early trade today after the company reported a 44% YoY fall in net profit for the March 2021 quarter.
The company reported a consolidated net profit of Rs 1.7 bn for the quarter against a consolidated net profit of Rs 2.1 bn in the same period last year.
The company also announced the country's "largest omnichannel digital health platform" by merging its online, offline pharmacy, and telemedicine verticals into a single entity called Apollo HealthCo.
Apollo transferred its back-end offline pharmacy business, digital healthcare platform Apollo 24/7, its retail pharmacy business, and the "Apollo 24/7" brand, into the healthcare group's 100% subsidiary Apollo HealthCo.
The platform will combine the strengths of Apollo Group's offline healthcare leadership with Apollo Group's new-age digital offerings to address all healthcare consumer needs, the company said.
Disclosure: Equitymaster Agora Research Private Limited (Research Analyst) bearing Registration No. INH000000537 (hereinafter referred as 'Equitymaster') is an independent equity research ...
more