Sensex Trades Marginally Lower; Dow Futures Up By 11 Points
Meanwhile, LIC-controlled IDBI Bank too closed its QIP at an issue price of Rs 38.6 per share, at a discount of 5% to the floor price of Rs 40.6 per share.
IDBI Bank's QIP was for Rs 20 billion, however, the bank has raised only Rs 14.4 billion from the issue.
The private sector lender had originally targeted to raise Rs 60 billion via QIP, which was downsized to Rs 20 billion when it opened.
Among the investors who were allotted more than 5% of the equity shares in the QIP issue were Punjab National Bank (20.9% subscription); Bank of Baroda (13.9%), State Bank of India (13.9%), Indian Bank (6.9%), Canara Bank (6.9%) and Societe Generale-ODI (5.6%).
Post the allotment of equity shares in the issue, the paid-up equity share capital of IDBI Bank stands increased to Rs 107 billion, comprising of 10.7 billion equity shares.
Speaking of the banking sector, check out the monthly returns of major sectors for the month of March and October 2020 in the chart below.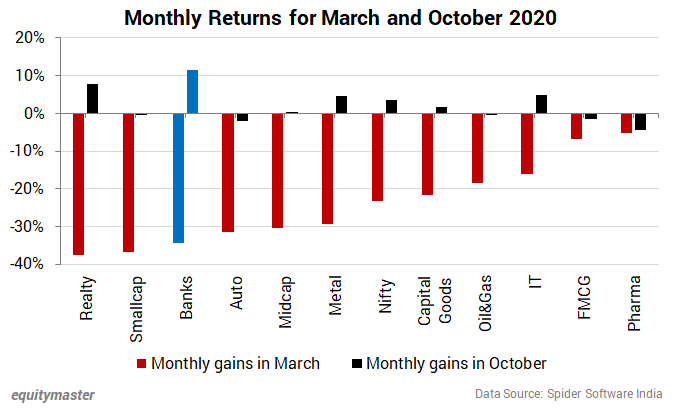 In the chart above, you can see that banks were among the major losers with a cut of 34% in the month of March.
Cut to October they are the biggest gainers for the month with 11% returns!
And to know what's moving the Indian stock markets today, check out the most recent more