Sensex Trades Marginally Higher; Dow Futures Up By 86 Points
The promoters in a letter to the bank have reiterated their commitment to the subscription to the remaining warrants to complete the conversion into equity. They subscribed to convertible warrants at a price of Rs 1,709 per share when the market was hovering at Rs 1,470 per share.
In the backdrop of the COVID-19 pandemic, which disrupted business operations of entities across the world. Amongst many measures to safeguard the economy, the Reserve Bank of India (RBI) also extended a moratorium. It's in this background that the bank requested to seek an extension from the market regulator for payment of the balance number of warrants, as acceded by them.
How this pans out remains to be seen. Meanwhile, stay tuned for more updates from this space.
Speaking of the banking sector, check out the monthly returns of major sectors for the month of March and October 2020 in the chart below.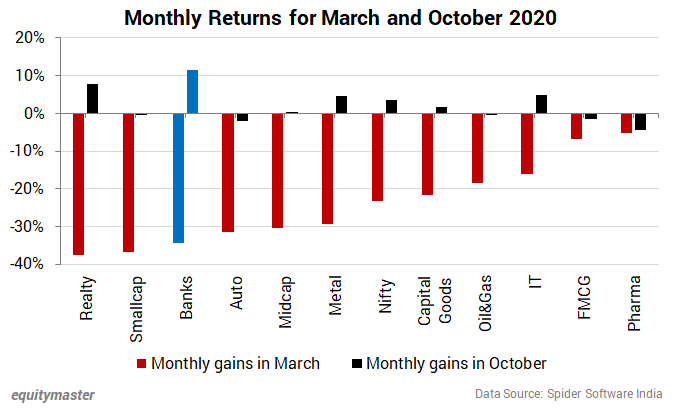 In the chart above, you can see that banks were among the major losers with a cut of 34% in the month of March.
Cut to October they are the biggest gainers for the month with 11% returns!
Disclosure: Equitymaster Agora Research Private Limited (Research Analyst) bearing Registration No. INH000000537 (hereinafter referred as 'Equitymaster') is an independent equity research ...
more