Sensex Slips 450 Points; SBI & IndusInd Bank Top Losers
However, stakeholders and market observers point out that while such a move can bring much needed improvement in coverage of health-based products, the proposition may face stiff resistance from health insurers.
How this pans out remains to be seen. Meanwhile, we will keep you updated on the latest developments from this space.
In other news, Fitch ratings on Wednesday said that the proposed initial share sale of LIC will improve the accountability and transparency of the country's largest insurer and benefit the insurance industry.
Fitch said it expects that the initial public offering (IPO), once executed, may also encourage some of the other private sector insurance companies to list some of their shares in the stock market over the medium term, although the current insurance regulation does not require all insurers to be listed publicly.
Finance Minister Nirmala Sitharaman had said that LIC will be listed as part of government's disinvestment initiative.
Currently, the government owns the entire 100% stake in LIC.
Fitch expects the state to reduce ownership only marginally in the insurer in the near term, but could gradually reduce the stake over the long run to meet the minimum public holding requirement for listed companies.
Speaking of the life insurance sector, this is one sector which is a clear outperformer in this volatile market.
With the huge future potential of the sector, the outperformance is not surprising. India's life insurance penetration i.e. insurance premiums as a percentage of GDP, is very low compared to the global average.
Life Insurance Sector - Megatrend in the Making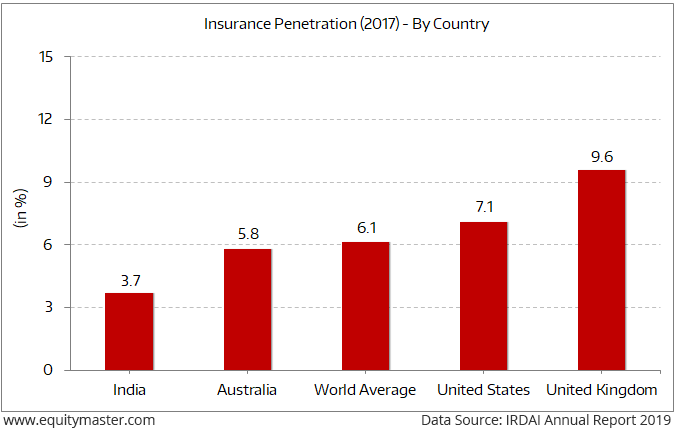 The industry is expected to grow at a CAGR of 11-13% over the next five years. India's large youth population and growing awareness about insurance is bound to accelerate growth.
Disclosure: Equitymaster Agora Research Private Limited (Research Analyst) bearing Registration No. INH000000537 (hereinafter referred as 'Equitymaster') is an independent equity research ...
more