Sensex Ends 164 Points Lower; Auto And Telecom Stocks Witness Huge Selling
Note that multiple factors have affected the auto sector of late.
The liquidity crisis faced by NBFCs, regulatory changes leading to increased costs, new emission norms...they have all taken their toll.
Automobile sales have fallen every month for almost a year now, except for October when the numbers were flat. In June, nine out of India's 11 main passenger vehicle makers reported a double-digit decline in sales.
Reports state that many dealers who have recently entered the auto industry are finding it difficult to manage their repayment obligations. Banking industry experts estimate the total outstanding loans to automobile dealers to be in the range of Rs 700-800 billion.
However, it is interesting to note that despite the slowdown in the auto sector, the sales volume of electric vehicles (EVs) are growing at a robust pace.
Have a look at the chart below:
Electric Vehicle Sales on a High Growth Trajectory!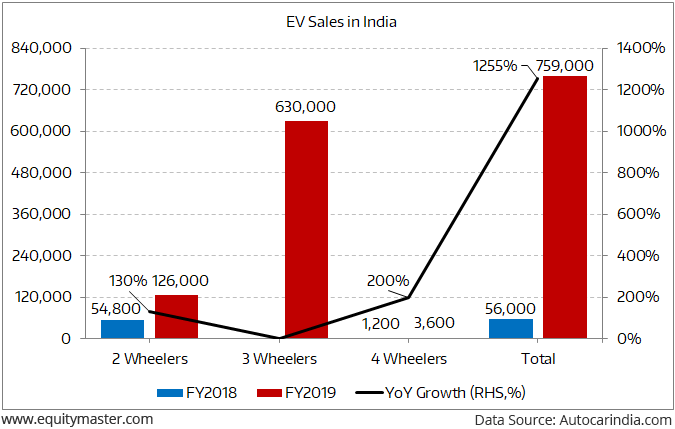 Electric-2 wheelers sales volume registered 130% YoY growth in FY19. 4-wheeler EVs grew by 200% YoY.
Similarly, electric three-wheelers reported the highest sales volume of 630,000 units. It is important to note that the electric three-wheeler industry has been growing without government support.
The base is quite low compared to the internal combustion engine (ICE) vehicle sales. However, you cannot ignore the growing momentum in EV sales.
The recently announced government incentives will give a further boost to EV sales.
The coming one year will be a real test for India's auto companies.
It will also tell us if this slowdown is temporary or if there has been a structural change in the sector.
In our view, companies in the sector adapting their business models to the rapidly changing environment will survive and thrive.
Disclaimer: Equitymaster Agora Research Private Limited (Research Analyst) bearing Registration No. INH000000537 (hereinafter referred as 'Equitymaster') is an independent equity research ...
more