Russia: FX Purchases Up In April, Largely Neutral For Ruble, But Other Risks Matter
To remind, Minfin's operations according to the fiscal rule, which are done as internal transactions with the Bank of Russia, should be distinguished from the market transactions conducted by the CBR. Normally, the CBR fully mirrors Minfin's transactions in terms of volumes but has freedom in terms of timing and structure.
The change in the FX structure of the sovereign fund is not a surprise, it has been guided for since last November. As we mentioned back then, the FX rebalancing of fiscal savings (which in reality are held of FX deposits with the central bank) will not require additional market transactions, as the Minfin's needs are fully covered by the large and diversified balance sheet of the central bank. The actual rebalancing that took place in February this year (Figure 2) confirms this view.
In terms of upcoming FX purchases, it is unlikely that the FX structure of the CBR's local market purchases/sales will be proportional to the Minfin's appetite, given the constraints of the local market. According to Bank of Russia data, as of 2020, 87% of the local FX market turnover was in USD, with EUR taking second place with a huge gap (Figure 3). This means that the ruble side of the budget rule FX transactions will remain unchanged in order to maintain RUB-oil neutrality, while the composition of the FX side will be determined by the capacity of the local market. We believe that the targeted FX structure of the Minfin's FX savings will be achieved through FX conversions of USD on external markets.
Figure 2: CBR's FX reserves are large and diversified enough to accommodate the Minfin's needs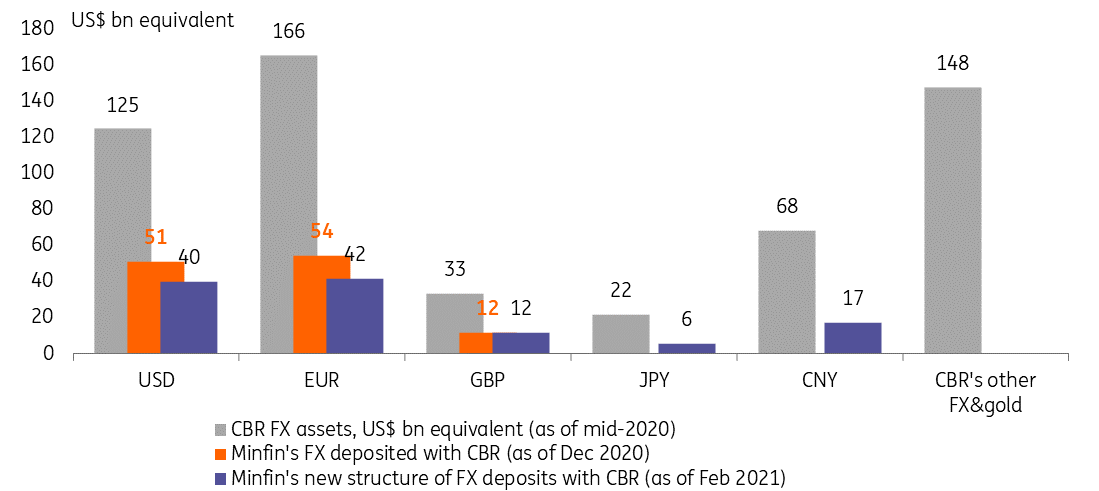 Source: Finance Ministry, Bank of Russia, Refinitiv, ING
Figure 3: Russian FX market dominated by USD, unlikely to have a capacity for CNY and JPY proportional to the Minfin's needs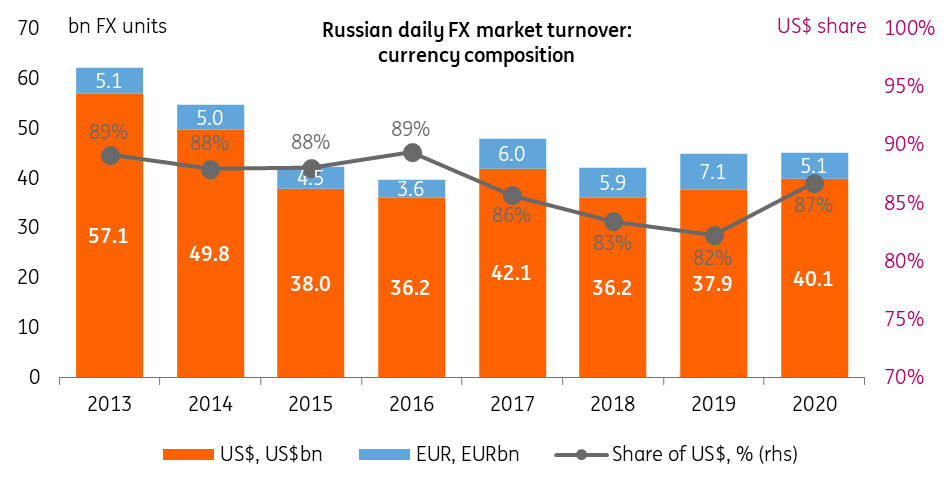 Source: Bank of Russia, Refinitiv, ING
Capital account remains a watch factor
We take the FX purchases announcements as largely neutral for RUB performance in 1H21, as the former is driven by oil price movements and has a low size relative to the expected current account – 20% of the 1Q21F current account and around 30% of 2Q21F, according to our estimates.
Disclaimer: This publication has been prepared by the Economic and Financial Analysis Division of ING Bank N.V. ("ING") solely for information purposes without regard to any ...
more