Russia: CPI Risks Moderate, Key Rate Easing Still Far Away
Russian CPI, inflationary expectations, and key rate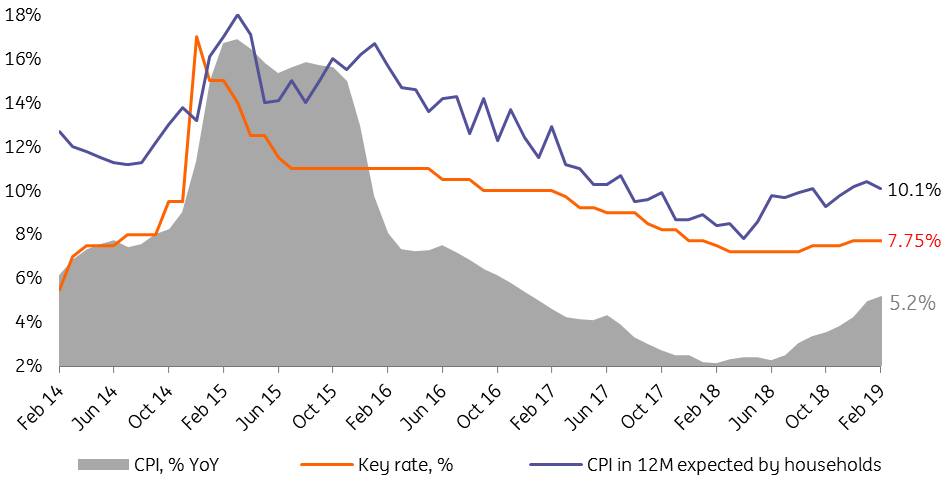 Source: State Statistics Service, Bank of Russia, ING
Mid-term CPI uncertainties remain, prospect of monetary easing remains remote
At the same time, we note that despite the better-than-expected start of the year the longer-term inflationary trend is still facing two major uncertainties:
The freeze of local gasoline prices, which helped contain inflationary pressure, expires at the end of March. Our understanding of the situation is that the ability to extend the agreement between the government and the oil majors may depend on some fiscal concessions, and the likelihood of the latter remains unclear. In our view, the recent downgrade in the official USDRUB forecast for 2019 from 63.9 to 66.4 should eventually lead to the improvement of the Finance Ministry's annual budget revenue plan by RUB300-350 billion - however this sum might be needed for the additional social policy measures required by the president in his recent 'State of the Nation' address.
As the additional measures to support the household income kick in later in the year, the local corporate sector may have an opportunity to pass through some of the PPI pressure (currently at 9.5% YoY, has been exceeding CPI since September 2017) into consumer prices.
As a result, we still expect acceleration in CPI to 5.7% YoY as of mid-year, with subsequent moderation to 5.0% by the year-end. Combined with persistent uncertainties related to the sanction environment, we expect the CBR to take a wait-and-see approach to the key rate at least until 4Q19.
Disclaimer: This publication has been prepared by ING solely for information purposes irrespective of a particular user's means, financial situation or investment objectives. The information ...
more