Romania: Cash Budget Deficit Within Target For 2018
As announced before the end of 2018, the budget deficit in cash terms ended the year at better than 3.0% of GDP, recording 2.88%. This came after the December deficit posted a record low.
Source: Shutterstock
At -0.14% of GDP, the December budget gap is the lowest since 2007 (the first year for which data is available), probably one of the lowest ever and smoothing the pattern of monthly budget execution.
Expenditure looks broadly in line with previous months, with total 2018 spending growing by 16.8% Year-on-Year. Wages closed the year at 26.7% of total expenditure. Adding social expenditure leads to "rigid" spending at 58.1% of the total, slightly less than in 2017.
Expenditure composition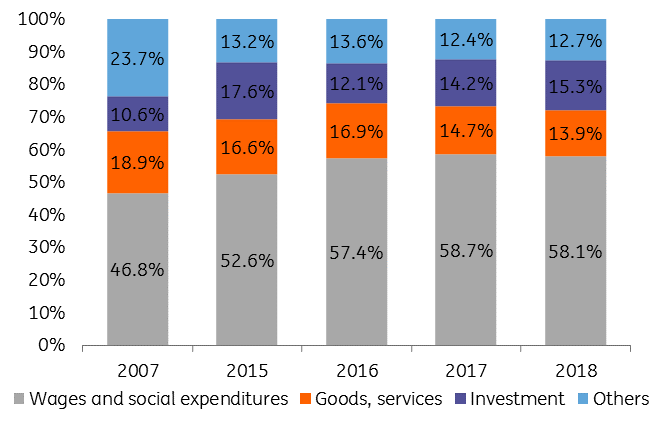 Source: Ministry of Finance, ING
Budget revenues increased by 17.2% Year-on-Year in 2018. A very important one-off (unseen in previous years) has contributed to incomings - RON3.87 billion (0.4% of GDP) in the "other EU incomings for operational programmes financed within the convergence objective" category.
Monthly budget execution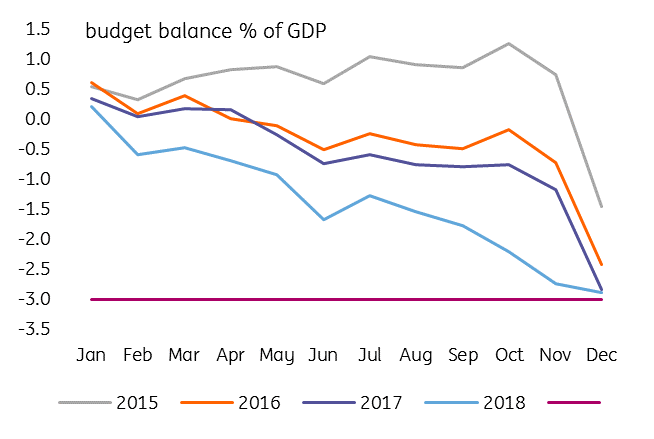 Source: Ministry of Finance, ING
The pattern of budget execution suggests a weak underlying structure and reduced fiscal room to respond to unexpected shocks. The 2019 budget bill is still not public and is to be voted on in Parliament on 5-6 February, according to official sources. This bill targets a 2.55% of GDP budget deficit.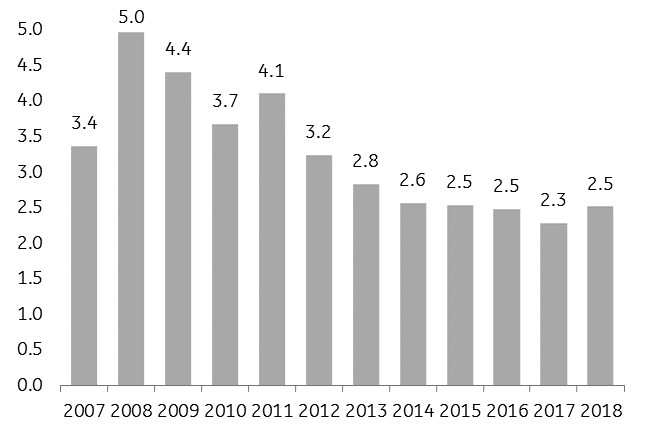 Source: Ministry of Finance, ING
Disclaimer: This publication has been prepared by ING solely for information purposes irrespective of a particular user's means, financial situation or investment objectives. The information does ...
more