Romania Briefing
Unwarranted expectations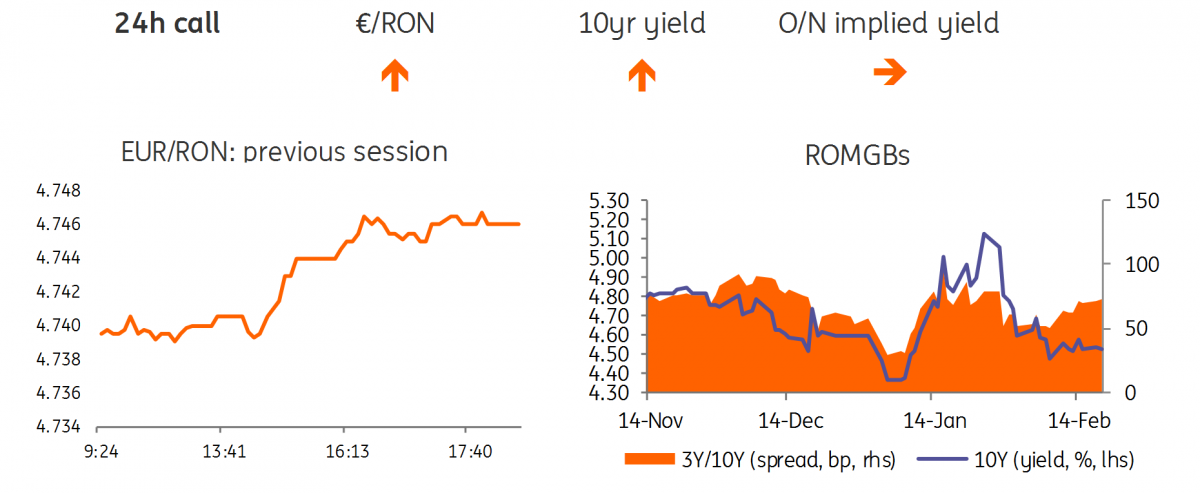 Source: Reuters
EUR/RON
The EUR/RON closed just above 4.7450 yesterday on below-average turnover. The first half of the trading day was quiet but the long-awaited meeting of the National Committee for Macroprudential Oversight (NCMO), which was expected to provide some forward guidance for breaking the deadlock between the government and the central bank, did not provide a breakthrough in the debate on the design of the bank levy, which led to a spike higher for the EUR/RON. The conclusion of the meeting was that NCMO "identified solutions for possible scenarios for the adaptation" of the government emergency decree which included the bank tax. Hence, today's government meeting is unlikely to bring any changes. The prospects for improving the fundamentals of the Romanian leu via fiscal consolidation and structural reforms are limited, with a heavy election calendar ahead. Economic imbalances are likely to be partially offset in the short-term by a combination of a weaker currency and higher interest rates. Hence, once carry becomes less prohibitive to short the Romanian currency- as liquidity should normalize due to bond redemptions- we expect the EUR/RON to resume its uptrend. For today, we see a 4.7400-4.7550 range.
Government bonds
The Romanian government bond yield curve bull flattened yesterday with 10-year yields dropping around 10 basis points after the February-2029 bond auction did not match all of the genuine demand. The Ministry of Finance upsized the 10Y auction size to ORN347 million versus the RON200 million planned, at an average and cut-off yield of 4.78% on strong demand, with a bid-to-target ratio at 4x. The average of rejected bids was 4.84% suggesting that most of the demand came from one investor. It's possible this was driven by expectations that the bank levy would be amended swiftly to incorporate the main central bank suggestions. Expectations for a swift normalization could be unwarranted for a while.
Disclaimer: The information in the publication is not an investment recommendation and it is not investment, legal or tax advice or an offer or solicitation to purchase or sell any financial ...
more