Romania Briefing - Monday, Feb. 25
Challenging Sep-2031 auction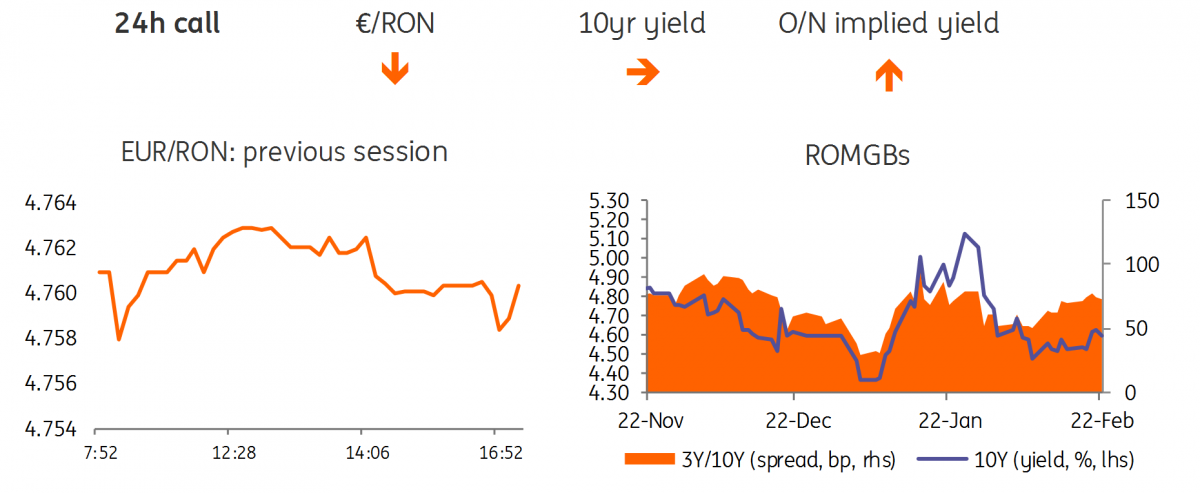 Source; Reuters
EUR/RON
With daily volumes well below their historical average and volatility almost absent, the EUR/RON closed flat around 4.7600 on Friday. Optimism seems to be somewhat on the rise today after the good news on US-China trade talks and – on a regional note – Hungary's rating upgrade to 'BBB' by Fitch just a week after S&P did the same. Hence, the Romanian leu could benefit from this backdrop, although the longer-term trend remains – in our view – one of depreciation. For today, the currency pair could continue to trade within a 4.7500-4.7600 range.
Government bonds
A calm day in Romanian government bonds with some mild buying interest prevailing but not enough to give a clear direction in the market. Today we have a RON200 million Sep-2031 auction- a particularly illiquid tenor. We expect partial allocation around 5.35%.
Money market
Carry rates remained elevated on Friday, trading around 4.70%. Longer tenors seem to have reached interesting enough levels to trigger some selling interest. 1M moved c.30 basis points lower towards 4.50%. Nevertheless, without liquidity injections from the National Bank of Romania, we expect another reserve period with high carry.
Week Ahead
After slightly better survey data from the eurozone, this week will be about inflation and unemployment. With higher oil prices, the question is whether inflation will continue its decline or whether it stabilizes around current readings of 1.4%. Moreover, as manufacturing continues to be weak, the strong labor market remains the driving force of the economy, which increases the importance of this data. In Hungary, the national bank is expected to leave its policy rate unchanged for another month. We see the central bank waiting for February's inflation data (namely core CPI ex. tax) to overshoot the 3% target before starting monetary policy normalization.
Disclaimer: This publication has been prepared by ING solely for information purposes irrespective of a particular user's means, financial situation or investment objectives. The information ...
more