Relmada Therapeutics Launches Pharmaceutical Armada Against Chronic Pain And Opioid Abuse
To treat chronic pain without risk of addiction is to straddle a knife's edge. But Relmada Therapeutics Inc. has a small fleet of compounds in development that address both sides of an issue that has become a newsmaker, given the recent upsurge in heroin addiction and the ever-present conundrum of alleviating severe pain in chronic disease and after surgery. In this interview with The Life Sciences Report, Relmada's Michael Becker describes the company's programs, which are advancing steadily toward the marketplace.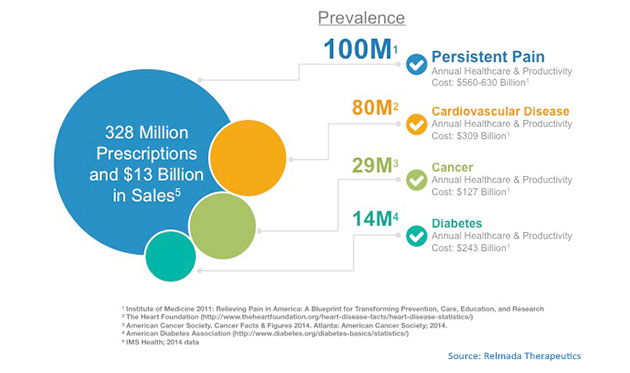 Management Q&A: View From the Top
The Life Sciences Report: Relmada Therapeutics Inc. (RLMD:OTCQB) started out as a privately held company, but then completed a reverse merger and went public. Can you provide a bit of background on that process, and tell us the meaning behind the company's name?
Michael Becker: In May 2014, Relmada completed a reverse merger and listed on the OTCQB at $7.50 per share. In connection with the going-public transaction and subsequent warrant exercises, Relmada raised approximately $51 million ($51M) in aggregate. With regard to the background behind the company's name, Relmada is an amalgamation of the phrase "relief armada," as the company is developing a pipeline of drug candidates to treat chronic pain.
TLSR: Let's talk about your new chemical entity, d-Methadone (dextromethadone; REL-1017), which is being developed for the treatment of neuropathic pain. Readers are familiar with traditional racemic methadone that is used in the treatment of various pain states and as a substitution therapy in heroin and other opioid addiction. How is your d-Methadone different?
"Relmada is focused on developing d-Methadone for the treatment of neuropathic pain, which represents a multibillion market opportunity."
MB: It is important to note that d-Methadone acts completely different from racemic methadone. As a single isomer of racemic methadone, d-Methadone has been shown to possess NMDA antagonist properties with virtually no opioid activity associated with the racemic molecule, or the l-Methadone isomer, at the expected therapeutic doses. The activation of NMDA receptors has been associated with neuropathic pain, and it is expected that d-Methadone will have a role in pain management by blocking this activity. In contrast, racemic methadone is a potent, long-acting narcotic producing typical opioid side effects, such as nausea, addiction, constipation, etc.
TLSR: There seems to be a fair amount of enthusiasm surrounding drugs that target the NMDA receptor following a number of acquisitions in the space in recent years, including Naurex Inc. being acquired by Allergan Plc (AGN:NYSE) for more than $560M and Avanir Pharmaceuticals Inc. being acquired by Otsuka America Inc. (Otsuka Holdings Co Ltd. [4578:Tokyo]) for $3.5 billion ($3.5B). Where would a drug like d-Methadone fit into this space?
MB: Each company working with NMDA antagonists seems to have focused on their own lucrative niche. For example, Naurex was developing a pipeline of product candidates that utilize NMDA modulation as a potential new approach to the treatment of major depressive disorder (MDD), while Avanir advanced the first and only FDA-approved treatment for pseudobulbar affect (PBA) that acts on both NMDA receptors and sigma-1. Similarly, Relmada is focused on initially developing its NMDA receptor antagonist, d-Methadone for the treatment of neuropathic pain, which represents a multibillion market opportunity ready for a new effective entry.
TLSR: What is the rationale behind developing an NMDA receptor antagonist for pain?
MB: Ketamine hydrochloride (ketamine) is an NMDA receptor antagonist approved by the FDA as a rapid-acting general anesthetic that has also been shown to produce strong relief in neuropathic pain states. There is now ample evidence that NMDA receptor antagonists that block the NMDA receptor, such as ketamine, are able to halt the excessive barrage of nociceptive input to the brain, and are, therefore, potential alternatives to existing treatments of chronic pain syndromes.
Disclosure:
1) Tracy Salcedo compiled this interview for Streetwise Reports LLC and provides services to Streetwise ...
more