Redstar: High-Grade Gold In Alaska
TM editors' note: This article discusses a penny stock and/or microcap. Such stocks are easily manipulated; do your own careful due diligence.
On the back of one of the biggest rallies in resource history, many junior resource shares are up hundreds of percent. Bob Moriarty of 321 Gold profiles Redstar Gold, a company he believes is still cheap in this bull market.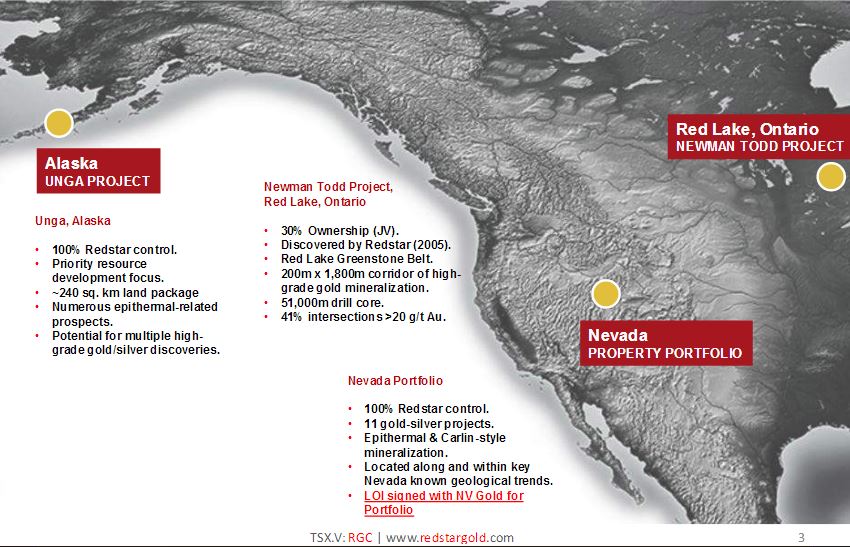 Redstar Gold project map
Finding diamonds in the rough isn't difficult. What is difficult is finding diamonds in the rough that are not fully priced if not overpriced given this stage of a new bull market in gold and silver. What is still cheap in this new bull market?
Redstar Gold Corp. (RGC:TSX.V) (RGCTF) hit a high of $0.68 in the late summer of 2011 just as gold was about to peak. With financing out of the question, the company pretty much went into hibernation as the share price dropped to a low of $0.025 in December of 2015 as gold bottomed. The action since then pretty much shows the potential of penny dreadfuls as the stock has rebounded by 440% and money is beginning to flow into the sector.
Redstar was a triple threat as far back as 2011 with a major high-grade gold project in Ontario called the Newman Todd project within the Red Lake gold district. The company entered into an option agreement with Confederation Minerals (CFM-V) that allowed Confederation to earn up to a 70% interest in the project by spending $5 million on the project, making certain cash payments to Redstar and completing a PEA on the project. Confederation has earned the 70% and in accordance with their agreement issued 500,000 shares of the company to Redstar.
The PEA showed that Confederation and Redstar either need a higher price for gold or a lot more drilling on the Todd Newman project to be economically viable.
In addition to the Todd Newman project, Redstar also had a swarm of 11 projects in Nevada they got from AngloGold-Ashanti in 2005 complete with a database of past exploration results done before AngloGold-Ashanti departed Nevada. In early 2014 Redstar did a deal with a company named True Grit. (TGI.H) Love that name. True Grit was to pay Redstar Gold a total of $200,000, spend $750,000 on exploration and issue 2.5 million shares to Redstar. Alas True Grit lacked grit, money or both and managed to be forced into returning the projects to Redstar on December 21, 2015, a mere two days after the lowest price for gold in years.