Rates Spark: Waiting Game
ECB monthly PEPP purchases hit €80bn target in May
(Click on image to enlarge)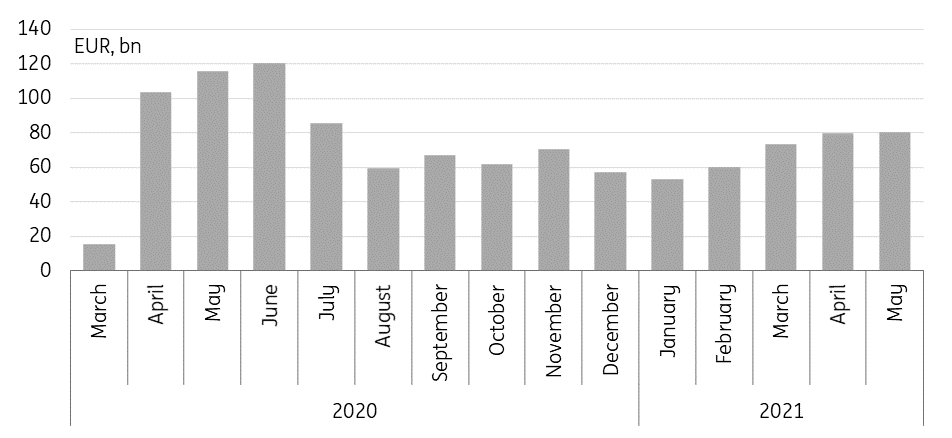 ECB, ING
The ECB kept PEPP purchases at €80bn in May
ECB data on monthly PEPP purchases in May hit €80.7bn, as was to be expected under the accelerated pace announced in March. The ECB also released its more detailed bi-monthly data set for April and May combined, but not that it told a whole new story this time around. Public sector assets account for the bulk of net PEPP purchases with €165bn bought over the past two months compared to €4bn in corporate bonds over the same time horizon. Commercial paper holdings continued to roll off with the ECB now only having €4.6bn left on its books.
Public sector assets account for the bulk of net PEPP purchases
Within the public sector the ECB largely stuck to the capital key subscription when distributing purchases across jurisdictions. There was a continued, albeit subtle, overbuying in the more liquid bond markets as the ECB appears to have difficulties in sourcing paper from very small Eurozone countries. The share of Italian paper bought did increase slightly, but we would argue that the ECB reserves any larger deviation from the capital key for emergencies, rather than trying to micro-manage bond spreads via this lever. While that provides an implicit cap, the near term positive impact on Italian bond spreads versus Bunds comes via the overall pace of asset purchases to be decided this week again.
Today's events and market view
Data calendars do not feature any top tier data today and central bankers are in their communications black-out period. That will leave the focus on supply where the highlight is the 10Y deal from Italy. It will be a bit of a test also for the broader eurozone rates market and whether it can withstand upward pressure, not least as the deal will be accompanied today by supply in the same maturity bucket from the Netherlands and Austria (alongside a 4Y). Germany will also tap a 7Y bond.
Disclaimer: This publication has been prepared by the Economic and Financial Analysis Division of ING Bank N.V. ("ING") solely for information purposes without regard to any ...
more