Rates Spark: Europtimism
While difficult to pinpoint the exact triggers of yesterday's rates-sell off in the Eurozone, it did happen against a backdrop of growing optimism and an accelerating vaccine roll out. The tightening UST-Bund spread showed EUR rates had some catching-up to do, but in our bearish rates view this dynamic is unlikely to be sustained.
The backdrop justifies higher rates, but yesterday's trigger is hard to pinpoint
Yesterday saw 10Y Bunds selling off by 6bp in the peak, reaching a yield high of 0.22%, and thus levels not seen since end of February. Bunds have also underperformed versus swap rates by more than one basis point.
Fingers have been pointed to a number of possible triggers for the move, including political developments in Germany which have underscored the growing importance of the Green party while the CDU/CSU struggled over its top candidate for the upcoming elections. Prospects of at least a Green finance minister in a future coalition government let markets speculate on larger deficit spending, pro-growth policies, and further European integration, further down the road.
We find it difficult to pin it down to specific triggers, but note that yesterday's move happened against a backdrop of growing optimism over the accelerating vaccine roll out in the Eurozone. The risk is that even the ECB later this week could acknowledge this during its press conference, although we think the central bank's aim should rather be to bridge the time until the June meeting, when the pace of its asset purchases is up for reassessment, without causing too much of a hiccup.
Net PEPP buying by the ECB slows slightly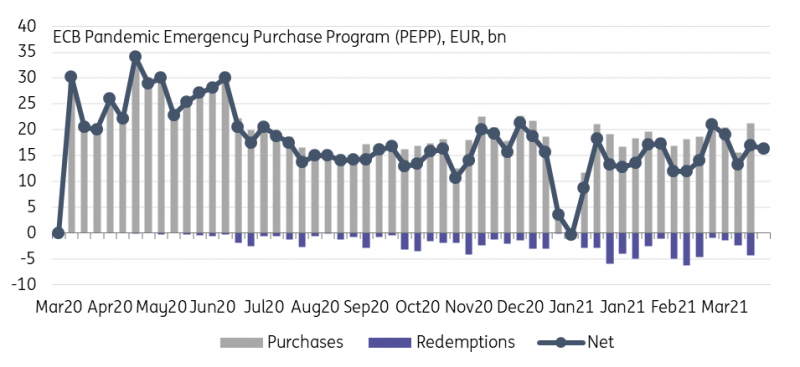 ECB net buying under the Pandemic Emergency Purchase Programme (PEPP) has slowed compared to the previous week. The net figure might again be distorted to the downside by larger bond redemptions so we could actually see a larger gross figure today. Nonetheless we think that slower net buying in light of rates creeping higher underscores the ECB's reluctance to micromanage markets and even let rates rise if that is deemed justifiable by an improving backdrop.
Disclaimer: This publication has been prepared by the Economic and Financial Analysis Division of ING Bank N.V. ("ING") solely for information purposes without regard to any ...
more