Rates Spark: ECB All-In As The Fed Eases Back
Interesting to see the Fed ease back on the need for Wall Street support, as the market self heals. Meanwhile the ECB remains all-in with lots more to do. Month-end typically sees curves flatten. The move could reverse next week provided sentiment continues to improve. Long-dated ECB purchases have so far helped flatten the curve.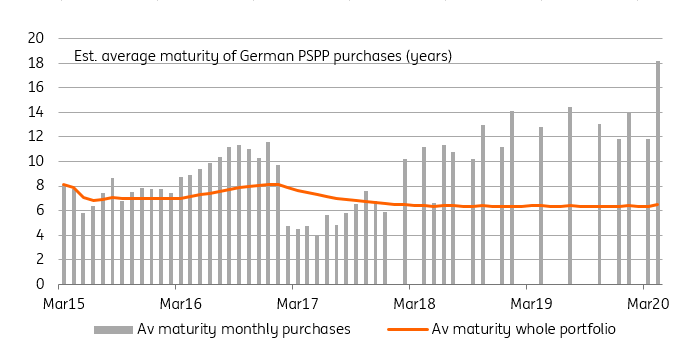 Source: ECB, ING
EUR Rates to remain suppressed into month-end
Optimism is palpable in financial markets, for instance in the stock market rally and in the tightening of sovereign spreads. Rates remain stubbornly low, however. This is a discrepancy we have highlighted recently and that looks set to persist for the foreseeable future as our economics team expects the ECB to announce €500bn of QE purchases at next week's meeting, and an extension of the PEPP programme until mid-2021. We expect the announcement is largely priced in so a one-off impact on the day is possible but should be limited. Indeed the majority of economists surveyed by Bloomberg expect the same size and extension as us. Two weeks ago, the median of a Reuters survey was €375bn.
Ahead of this, we expect rates to trade in lockstep with stocks but to somewhat outperform what one would normally expect. We explain: month-end rebalancing flow should help to flatten yield curves and push rates lower. This effect is temporary and should unwind at the start of next week provided the current wave of optimism can extend until then. This is not a given. We regard simmering geopolitical tensions as a key risk in the coming sessions. Trump said he will announce further sanctions against China today whilst a Chinese probe into Japanese and US exports was extended today.
ECB purchases helped keep the German curve flat
The ECB has so far proved a tailwind for curve flatteners in Germany due to the long duration of bond purchases. We show in the chart above our estimate for the average maturity of monthly gross PSPP German bond purchases. In some months, the purchases are simply too small to make a decent guess. In April however, we think the average maturity was above 18 years, a record. Since average maturity numbers are published on a monthly basis, we will only be able to provide an estimate for May when new statistics are released next Tuesday. This should also be the first opportunity to look at the country breakdown of PEPP purchases, which are only released bi-monthly.
Disclaimer: This publication has been prepared by ING solely for information purposes irrespective of a particular user's means, financial situation or investment objectives. The information ...
more