Peugeot Turned A Profit: How They've Made It Out Of The Woods
Peugeot announced profits around EUR 1.2 billion (USD 1.3 billion) in 2015. These are great results, well above expectations especially those in the beginning of the turnaround.
Many investors were pessimistic about the success probability of the turnaround strategy. I wasn't among them. Back in 2014, I covered the capital hike and the new shareholder structure being proposed by the board.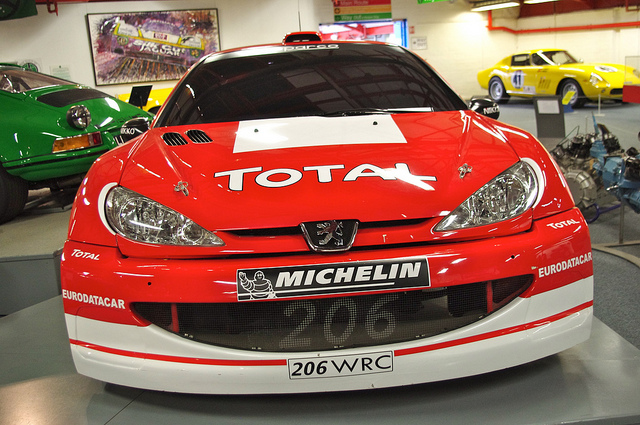 Photo by David Merrett
I saw tremendous benefits from the structure of the deal. Firstly, the money was terribly needed for urgent investments in plants, product developments and to tranquilize both investors and clients. Secondly, the entry of Dongfeng in the shareholder structure was a clear sign that Peugeot's penetration in the Chinese market was going to improve significantly. Finally, the entry of the French state was all but a threat. The French state had all the incentive to promote the business success of the company and at the same time to control any possible animosity between the management's strategy and the unions. So far, all these the factors have worked very well for the company.
Additionally, the recruitment of Carlos Tavares was a great move on top of the whole deal. He is a lean philosophy manager, very capable of pursuing an efficiency seeking culture within the company. Therefore, PSA has made huge progresses in terms of efficiency. Since taking the CEO seat, back in 2014, Mr. Tavares has worked to achieve less inventory, to reduce the number of platforms in the car offering and to modernize plants.
Graph 1 – Inventories evolution 2012 to 2015 (Source: PSA 2015 Results Presentation)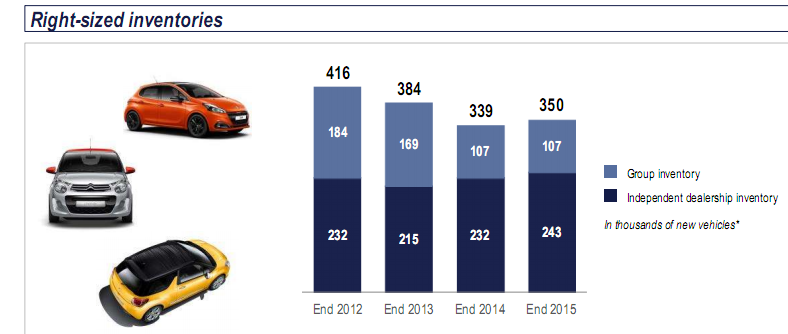 However, what makes Mr. Tavares the best choice for Peugeot is his sensible feeling for the product. As a car lover, he is very involved with the product development and the brand positioning. This has resulted in changes in PSA's brand portfolio. Peugeot has been positioned as a rigor oriented brand, focused on the French tradition and competing with the likes of Volkswagen (VLKAY), Ford (F) and GM (GM).