OPEC And Friends Production Cut Exceeds Expectations, Crude Rallies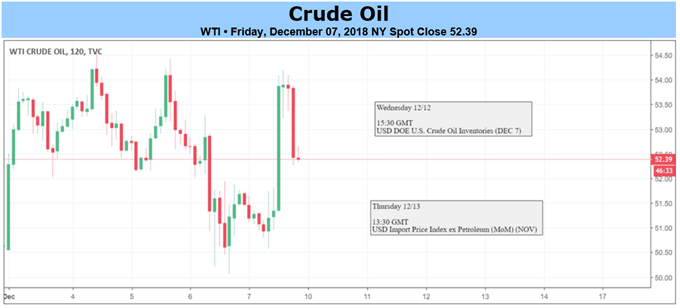 FUNDAMENTAL FORECAST FOR USOIL : BEARISH
FUNDAMENTAL CRUDE OIL PRICE TALKING POINTS:
The ONE Thing: After little progress appeared on Thursday, OPEC emerged on Friday with an agreement to cut 1.2 million barrels per day by OPEC and strategic alliances. The market was shifting to expect a lower bpd cut, so the final number was welcome news, and crude rallied as a result.
Crude rallied 5% on the news release on Friday morning alongside another encourage US payroll report. WTI remains 11% lower YTD & 10% lower over the last 20 days. Brent is lower 6% YTD.
Crude returned to Contango indicating signs of oversupply. The new December 2019-2020 spread shows the market trades around Contango and backwardation. While OPEC may bring about a bounce, the damage appears to be done, and if anything, the actions from OPEC+ may simply allow a range to develop in the market.
Per BHI, U.S. total rig count falls one rig to 1075 from 1076; US Oil rigs fall by ten to 877
A larger than expected production cut has given crude bulls all they wanted for Christmas, a reprieve of the massive selling. Crude jumped ~5% on larger-than-expected production cuts, which has had ripple effects to equity markets that were still open after the news broke of an agreed-upon 1.2m bpd cut after expectations were faltering that the previously expected cut would be reached.
The question now remains, how long can the OPEC+ buzz last?
Looking to fixed income, there is trouble brewing in the belly of the US Treasury curve, which indicates increased doubt about further growth (i.e., demand for oil) that could mean Friday's reprieve lasts nowhere near as long as hoped.
WHY OPEC (AND FRIENDS) STILL MATTER TO MARKETS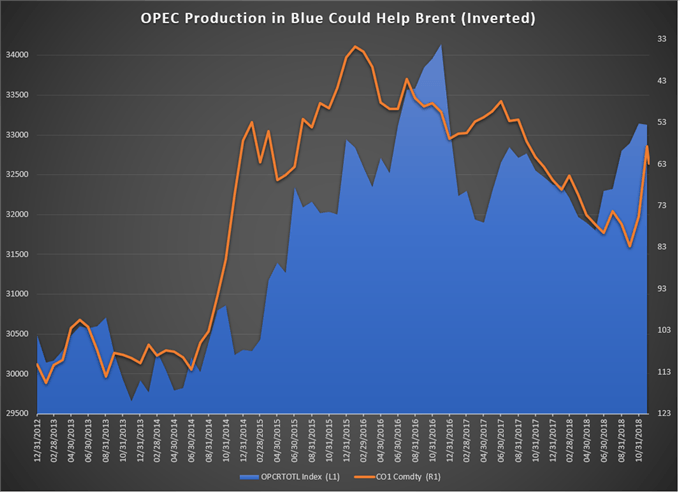 The chart above has OPEC total production back to 2012 with an inverted overlay of Brent crude. A helpful way to see the chart with inverted Brent is that when production increases, the price of oil drops (although it moves higher on an inverted chart.)