No Sign Of Stimulus, Or Global Growth, China's Economy Sunk By (Euro)Dollar
Never happened, even though it was widely reported at the time.
Modern China was assumed to get rich first and then reform politically: Jiang Zemin's Three Represents which became Hu Jintao's "harmonious society." Xi Jinping, who took over for Hu in 2013, was supposed to continue with these.
Maybe he wanted to, expecting that there was no way the global economy could stay so dormant forever. Perhaps, at first, he thought it only a matter of time before economic growth could resume and therefore continued political progress (though not necessarily in the fashion of full democratization). There is a chance that, despite lamenting QE, China's authorities initially decided to give it (and the three others) a shot hoping that it would get everything going again.
By the time it became clear QE wasn't what was advertised, conceivably it was too late to develop CNY as a replacement. They missed their chance. China had fallen into the same trap as the rest of the world. What's left, in 2019, is to hold tight and hope #4 isn't too bad – but prepare like it could be.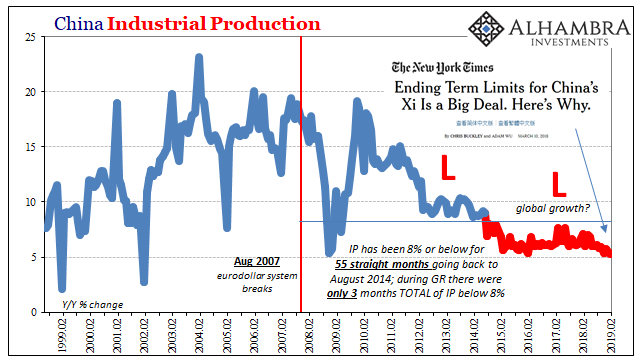 Disclosure: This material has been distributed for informational purposes only. It is the opinion of the author and should not be considered as investment advice or a recommendation of any ...
more