No Sign Of Stimulus, Or Global Growth, China's Economy Sunk By (Euro)Dollar
And on the fiscal side, there were hints and rumors about more than just proposed tax cuts. In early 2016, straight away, the Communist government panicked itself into a massive spending program. Clearly frightened by the prospects for worse after suffering through 2015, State-owned businesses were directed to splurge. They did.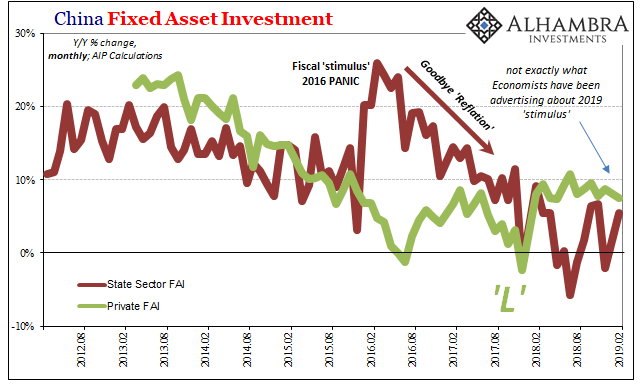 There is no such panic indicated in the fiscal channel in 2019 – even though, by any objective measure, China's economy seems to be facing at least those same downside prospects as three years ago if not more negative still. Given how the Chinese government works, if a stimulus program was in the works it would've been unleashed in January and February. Instead, State-owned FAI was up just 5.5% from a low level a year earlier.
It just doesn't seem like there is a whole lot of appetite for expensive, ill-conceived, and ultimately ineffective rescues. In other words, exactly what Communists authorities have been saying since the 19th Communist Party Congress held way back in October 2017.
While the Western establishment had been gripped by globally synchronized growth and its purely absurd inflation hysteria offshoot, Chinese officials saw what was coming. It wasn't so much that they might be worried about US Treasuries and QE-style money printing, rather it appears as if they finally recognized what truly mattered was what happens when the world thinks the Fed printed money to fix the shortage but actually didn't; at first fearing the US central bank was going to do much before realizing, too late, it didn't do anything at all.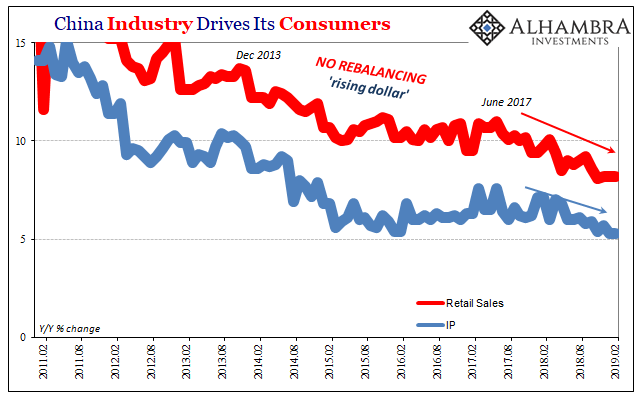 This slowdown didn't start with trade wars or inflationary expectations in the US and Europe. In fact, Europe in particular, inflation actually would've been a welcome sign for China's beleaguered manufacturing sector – an obvious signal for real recovery that would've meant, if it had been real, a boost in real growth opportunity.
Disclosure: This material has been distributed for informational purposes only. It is the opinion of the author and should not be considered as investment advice or a recommendation of any ...
more