No Sign Of Stimulus, Or Global Growth, China's Economy Sunk By (Euro)Dollar
Fast forward a full decade. Where's the yuan? They've had all this time and not even China's authorities are taking the steps required to make it a functional global currency replacement. If they could have, they would have long before 2019.
This is not to gloat; not at all! Rather, it exemplifies very well the big predicament. Not just the one plaguing China but what's the perpetual anchor upon the whole world. We are all gripped by what amounts to collective insanity, stuck with something that clearly doesn't work without any serious recognition, let alone commitment, to do anything about it. All of us.
An even better illustration is perhaps the plight of China's vast industrial economy. The very heart of the Chinese economic "miracle", it is now the primary source of its further undoing. The rhythm of decay is, in light of eurodollar acknowledgment, unmistakable.
China's National Bureau of Statistics (NBS) reports today that Industrial Production during the January-February 2019 period (the NBS combines January and February each year to minimize data skews originating from the variable placement of the New Year Golden Week on the calendar) was a mere 5.3% more than it was during January-February 2018. This was the lowest rate of growth in seventeen years, going back to January-February 2002.
As usual, there are mainstream cries about the holiday, statistical artifacts artificially suppressing what might not be so bad. I don't believe that's the case, but fine. The 6-month average for Chinese IP is now 5.57%. That's the lowest – on record.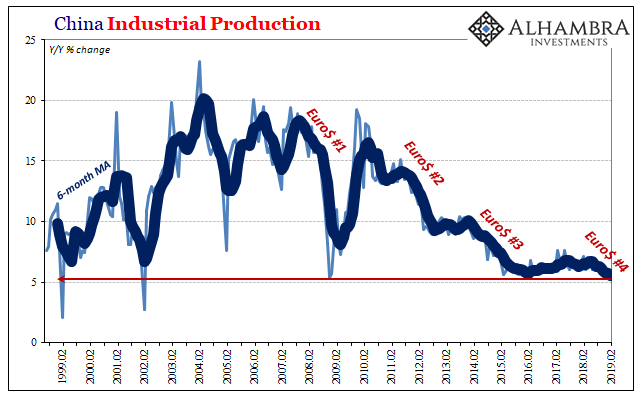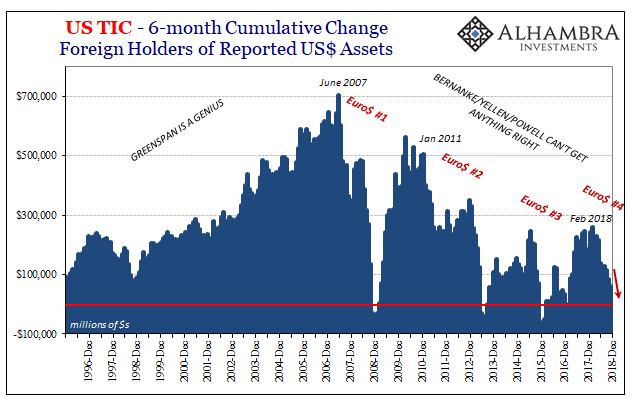 It beats (the wrong way) January-February 2016 by a tick. Only, three years earlier China was reaching the end of its unfortunate participation in the what became an immensely serious worldwide downturn registering hardest upon Asia. This one seems to be just getting started.
That's another mainstream talking point of late; Chinese authorities to the rescue! The PBOC is doing things, who knows what, but there are a lot of things. It must be a positive, accommodative addition to get their economy restarted again.
Disclosure: This material has been distributed for informational purposes only. It is the opinion of the author and should not be considered as investment advice or a recommendation of any ...
more