Korean GDP Pushes Above Pre-Pandemic Levels
Stronger than expected growth was led by business investment, though the consumer is no slouch either. The big unknown is, can Korea keep on top of its Covid-19 cases while its vaccination rollout struggles to get going - if it does, then 4% growth is achievable.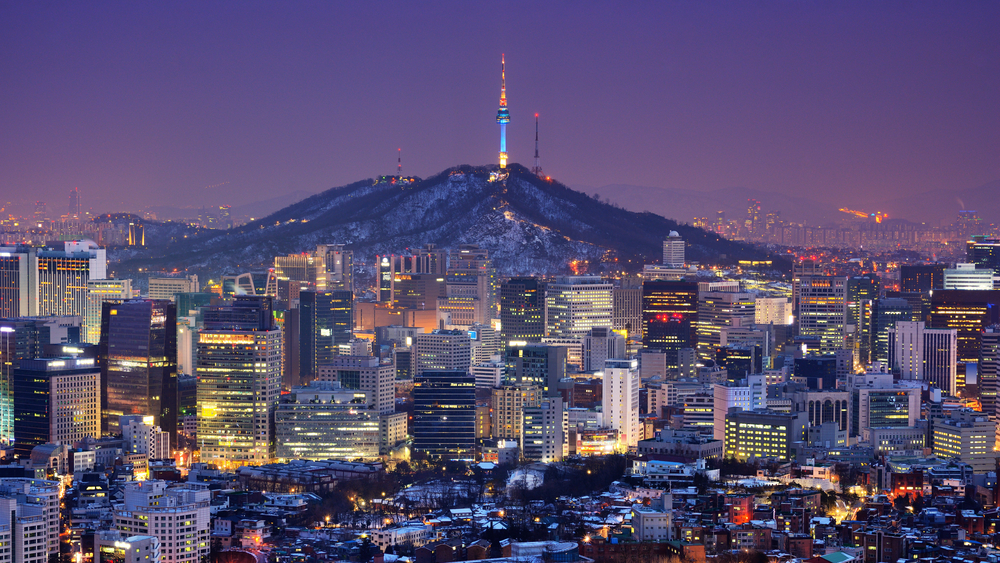 Source: Shutterstock
Better than expected growth
South Korea's GDP rose by 1.6% in 1Q21, stronger than the 1.1% expected, and up even from the solid 1.2% figures recorded for 4Q20 which was revised slightly higher from an initial 1.1% reading. That leaves GDP up 1.8%YoY, in other words, higher than a year ago, and also just higher than 4Q2019 pre-pandemic GDP levels too.
Korea's year-on-year gains will surge even higher next quarter as the comparison is boosted by base effects since 2Q20 marked the big quarterly decline in Korean GDP after the modest 1Q20 contraction (-3.2% fall in 2Q20 after a -1.3% decline in 1Q20).
Focussing as ever on the QoQ percentage gains (year on year measures at a time like this are really just reflecting 2020 weakness, not what is going on now), and the latest growth figures were dominated by very strong growth in business investment (+6.6%QoQ). This makes it look like the 1.1% consumer spending gains are off the pace, but annualized, this is more than a 4.5% rate, and really is not bad at all.
Korean GDP as an index (4Q2019 = 100)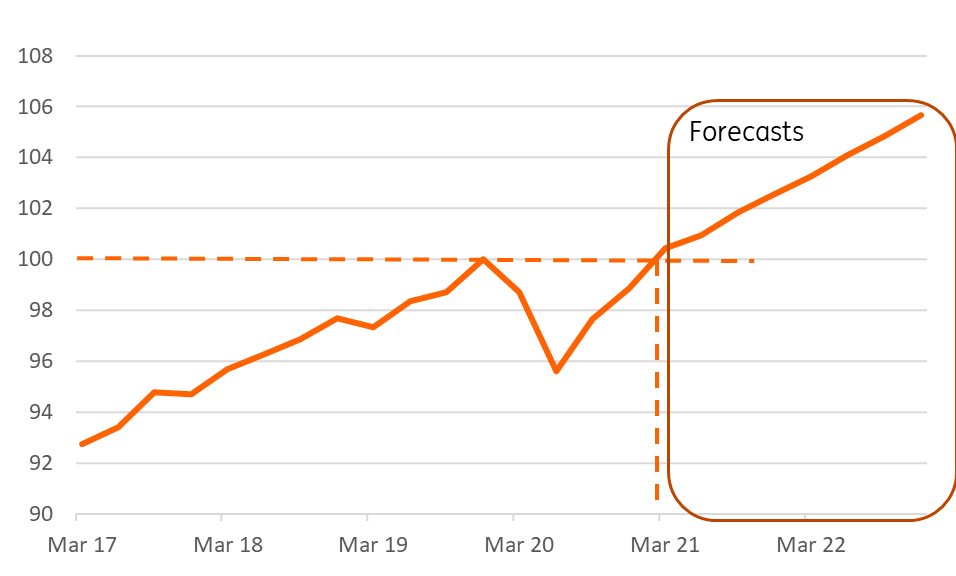 Source: CEIC, ING
Korean GDP levels
Growth could top 4% this year
Doing nothing at all to our existing forecast profile for 2021, today's surprise numbers could take Korean GDP to within a whisker of 4% GDP growth for the full year. But there are clearly two-way risks to where this actually goes. The underlying momentum of the economy is obviously stronger than we had thought, with strength concentrated in the electronics sectors and supporting industries, but also broadening out to industries like autos. Export strength remains supported by regional, in particular Chinese strength, and this could also gain more support as countries like the US and regions like Europe see further economic growth as their economies re-open.
Disclaimer: This publication has been prepared by the Economic and Financial Analysis Division of ING Bank N.V. ("ING") solely for information purposes without regard to any ...
more