Kiwi Crumbles As New Zealand Targets Speculators To Burst "Dangerous" Housing Bubble
One month after the New Zealand government took the historic step of adding a fresh mandate to its central bank, tasking it with considering the impact its monetary and financial policy decisions have on housing prices, a move to help calm the country's red-hot property market, overnight New Zealand's government took another step at popping the local housing bubble by taking aim at property speculators with a suite of new measures to tackle runaway house prices and prevent the formation of a "dangerous" bubble.
As a reminder, back in February, Finance Minister Grant Robertson said the Reserve Bank of New Zealand (RBNZ) must take into account government policy relating to more sustainable house prices.
"Today's announcement is just the first step as the government considers broader advice about how to cool the housing market," Robertson said in a statement. "We know the rapid increases we have seen in recent months are not sustainable, which has meant many first-home buyers are struggling to access the market."
However, with home prices refusing to dip and stubbornly sticky at all-time highs, rising by a record 21.5% in February...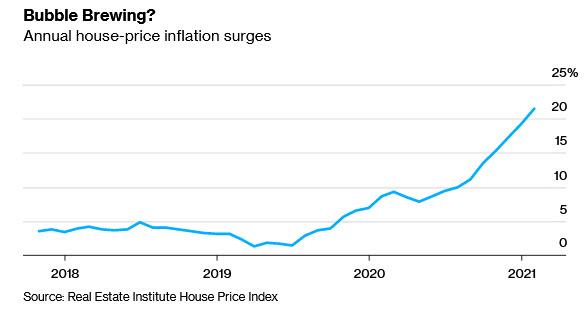 ... on Tuesday, Prime Minister Jacinda Ardern said the government will take more steps to cool the red hot housing market, and will remove tax incentives for investors to make speculation less lucrative and unlock more land to increase housing supply. The moves come as surging house prices keep first-time buyers and people on lower incomes out of the market, raising concerns about growing societal inequality. One wonders when the Fed will finally consider the impact of soaring home prices - largely the result of extremely easy financial conditions courtesy of the Fed - on social inequality (spoiler alert: never).
"The last thing homeowners need right now is a dangerous housing bubble, but a number of indicators point towards that risk," Ardern told a news conference. "Property investors are now the biggest share of buyers, with the highest amount of purchases on record. Last year, 15,000 people bought homes who already owned five or more."
Disclaimer: Copyright ©2009-2021 ZeroHedge.com/ABC Media, LTD; All Rights Reserved. Zero Hedge is intended for Mature Audiences. Familiarize yourself with our legal and use policies every time ...
more