Key Events In EMEA And Latam Next Week - Saturday, Sept. 26
Manufacturing is expected to improve in Hungary and the Czech Republic, but keep an eye on unemployment, inflation and GDP data releases throughout EMEA.
Hungary: Unemployment and wage growth to remain steady
Labor market data should be the highlight in Hungary next week.
We expect the unemployment rate to remain steady around the recent level based on preliminary data from the Statistical Office. The July wage growth will remain in the double-digit territory supported by a 10% wage increase for teachers.
We see further improvement in the manufacturing sector represented by the September PMI data, especially after the significant surprise upside German reading.
Czech Republic: Expect PMIs to rise
Given the increase in manufacturing PMI in the Eurozone and Germany in September, Czech PMI might finally move above the 50-point threshold, though confidence in industry slightly declined in September according to the Czech statistical office.
We will also see new budget data for September and official August credit dynamics, which should confirm solid housing loans dynamics, as some preliminary figures suggest.
EMEALatam Economic Calendar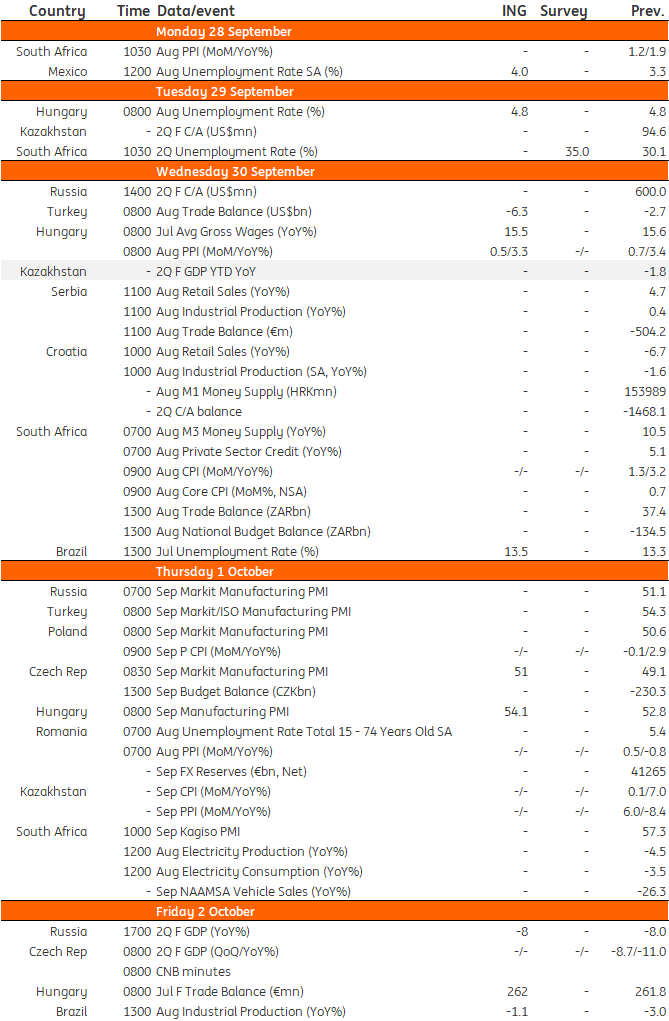 ING, Bloomberg
Disclaimer: This publication has been prepared by ING solely for information purposes irrespective of a particular user's means, financial situation or investment objectives. The information ...
more