Japanese Yen Outlook Bullish On Coronavirus Surge, US Earnings Season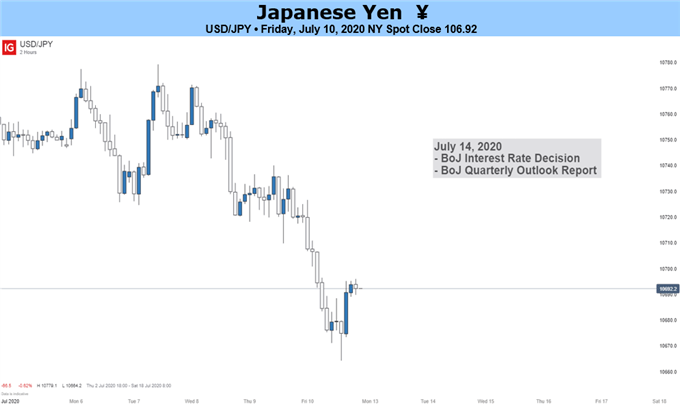 OUTLOOK: BULLISH
Japanese Yen may get tailwind from risk aversion over concern of surging COVID-19 cases.
Gains may be magnified if US earnings from large market-cap corporations underwhelms.
JPY could also rise if key OPEC+ meeting reveals signs of internal political fragmentation.
CORONAVIRUS CASES
The Japanese Yen may rise if a growing number of coronavirus cases – particularly in the US, the largest economy in the world – spurs demand for anti-risk assets. Efforts to mitigate the spread could mean the re-implementation or extension of growth-hampering lockdown measures that have caused global economic activity to slow down.
CHART SHOWING GLOBAL CONFIRMED CORONAVIRUS CASES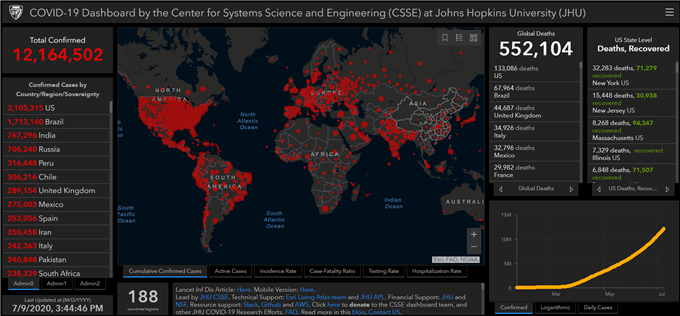 Source: Johns Hopkins CSSE
The US alone constitutes just under 20% of total global cases confirmed, with hot spots like Texas and Florida reporting alarming metrics. Medical statistics in those areas have unnerved already-unsettled investors who are contending with geopolitical risks in the US – with the upcoming 2020 US presidential election – and rising tension in Hong Kong.
CORPORATE EARNINGS
The Japanese Yen may extends gains if earnings from corporate gains like Goldman Sachs, Wells Fargo, Blackrock, and a slew of other high market-cap companies miss their earnings estimates. Since the selloff in global equities in March, stock markets have bounced back with renewed vitality, leading to questionable asset prices that may not be justified by poor earnings.
Technology-oriented stocks, in particular, have shown to be the most resilient category. Since March 16, Apple (AAPL), Amazon (AMZN), and Alphabet Inc. (GOOGL) have risen over 60.0%, 93.0%, and 40.0%, respectively. Their disproportionate weight in major US equity indices masks the health of smaller-cap companies that continue to struggle in the worst economic downturn since the Great Depression.
JAPANESE YEN, S&P 500 INDEX – DAILY CHART

Source: Bloomberg