The end of 2Q19 delivered a disappointing assessment for Japan in the form of the June Tankan survey. But whilst it fell more than expected, it might just not be 'bad enough' to postpone the October consumption tax hike.
Source: Shutterstock
2Q Tankan disappointment
The Tankan survey, undertaken each quarter by the Bank of Japan, gives a good snapshot of the economy together with forward indicators that are both more timely, and in the past at least, more "accurate" than the GDP figures, which were, and at times still are, dominated by erratic stimulus packages or one-off spikes and troughs in volatile elements like inventories and trade.
The Tankan headline large firm manufacturing index fell more than expected (to 7 from 12) which puts it only just above the 2016 trough. To put that into perspective though, this index fell to -58 during the global financial crisis, so manufacturing is softening, not collapsing.
The forward-looking "outlook" series for the manufacturing industry also dimmed, which is not surprising given the issues facing Japan and the rest of Asia - Trade war, tech slump and slowing global trade.
Tankan shows manufacturing slowing, not collapsing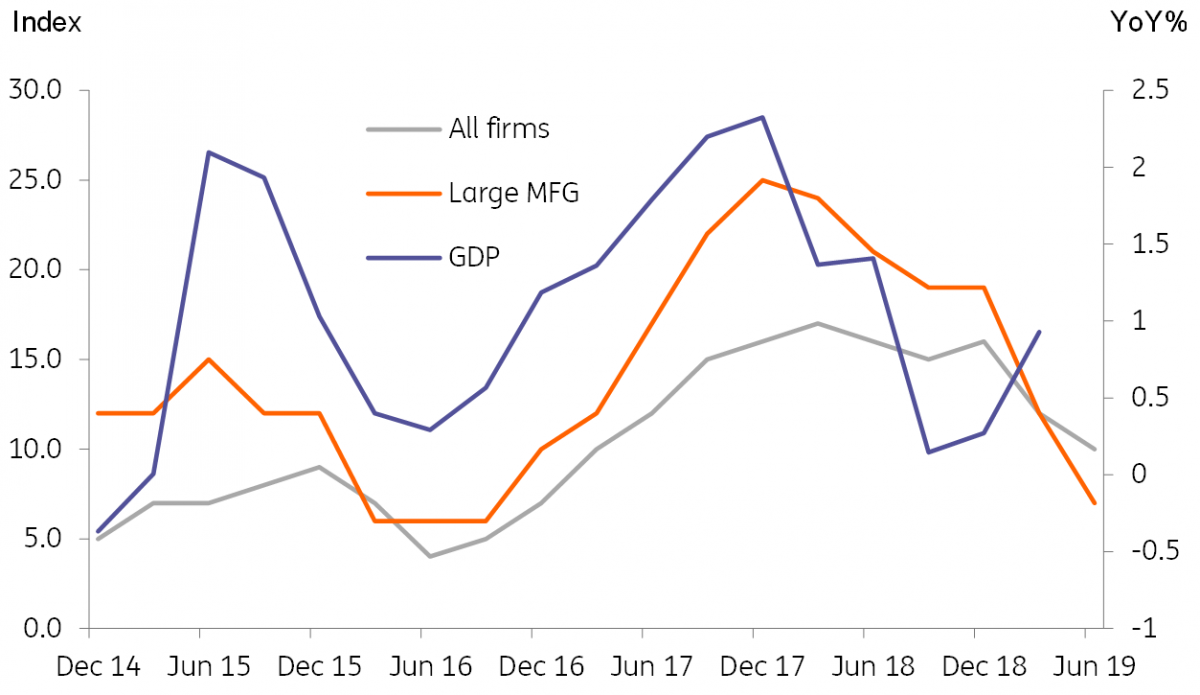 Source: CEIC, ING
Data might not be 'bad enough' to postpone the October consumption tax hike...
But while the direction of the Tankan was down, the speed of decline is not particularly alarming. 2Q19 GDP may well show a decline in both quarter-on-quarter and annual growth – but this looked likely anyway after the improbable bounce in 1Q19.
But the main reason for opening this Japan report with a detailed description of the Tankan is not to predict GDP, but because the Tankan was possibly the only bit of economic data remaining, that, if sufficiently bad, might encourage a postponement of the October consumption tax hike.
This hike, which has already been delayed twice, will raise the consumption tax by two percentage points, adds a bit more than a percentage point to headline inflation (for 12 months) and will result in the usual front loading and then collapse in spending that has accompanied similar tax hikes.
The information does not constitute investment recommendation, and nor is it investment, legal or tax advice or an offer or solicitation to purchase or sell any financial instrument. more