Indian Budget: Politics Outweighs Fiscal Discipline
The INR 7.04tr borrowing plan for FY2020 beats the consensus view of INR 6.4tr. A sharp, 31% rise over revised INR 5.35tr borrowing in the current fiscal year will not only pressure the borrowing costs higher but also be a significant crowding out of private investment. Moreover, it will sustain government debt-to-GDP ratio at the current high level, without much assurance about the plan to bring it down to 40% by 2025.
Loose fiscal policy may support growth, though not without its inflationary side-effects. This means the central bank (RBI) will have to tread a cautious path on the monetary policy. We aren't forecasting the RBI to move rates this year, but, with the ongoing pressure from the government to pursue growth-friendly policy, we wouldn't be taken aback if the central bank cuts rates at as early as next week.
Finally, the question is whether these populist measures will help the incumbent government to remain in power for a second term? This hinges on whether the measures will actually be implemented in time for elections, or whether they just remain announcements. A voter will want to see real benefits before he votes.
Budget in figures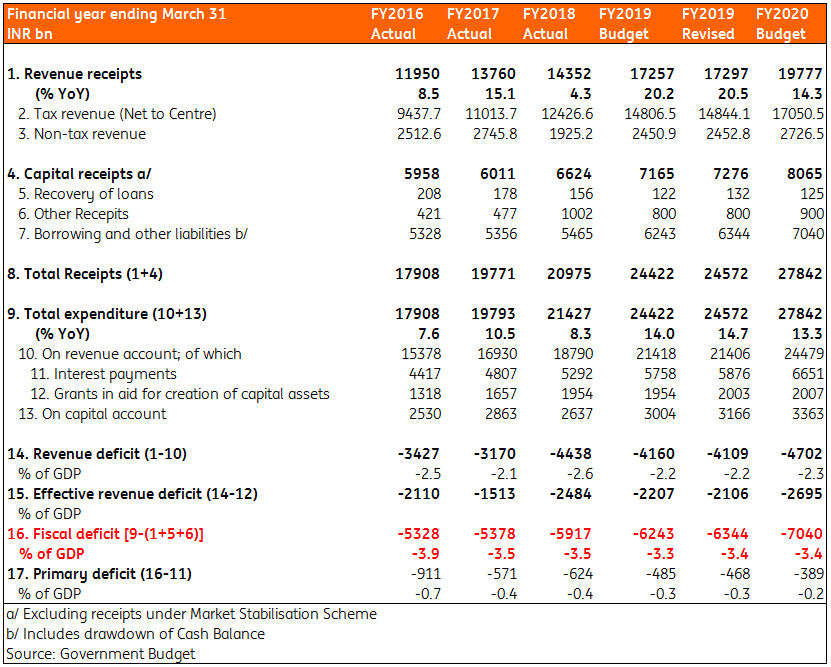 Source: Government Budget Statistics
Disclaimer: This publication has been prepared by ING solely for information purposes irrespective of a particular user's means, financial situation or investment objectives. The information does ...
more