Indian Budget: Politics Outweighs Fiscal Discipline
Lack of fiscal consolidation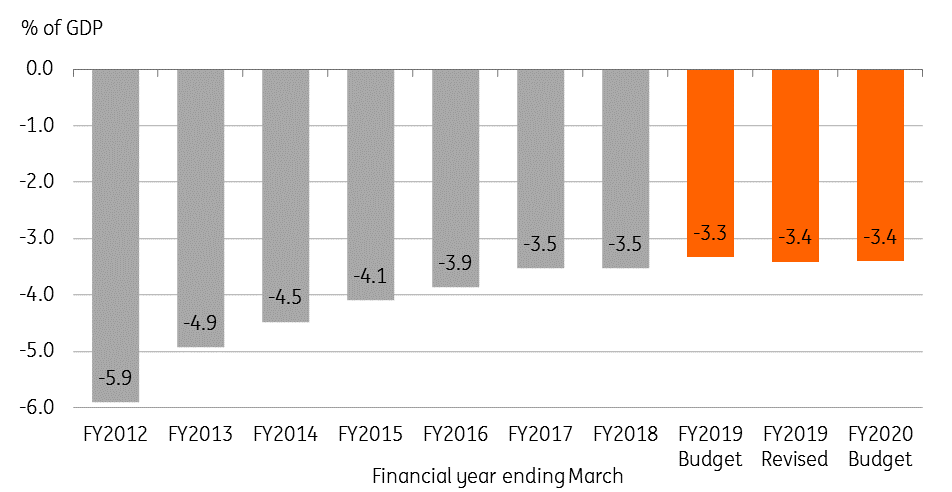 Soruce: CEIC, Government Budget Statistics
What we think about the budget?
The government is clearly ramping up spending to enhance its chances for re-election. Although the revised fiscal deficit of 3.4% for FY19 is below the 3.5% consensus estimate (ING's 3.6%), it's hardly a recovery from the 3.5% of GDP deficit in FY18. And it is still a deficit overshoot for the second consecutive year.
Moreover, the 3.4% deficit target for FY2020 shows no intent of fiscal consolidation, which casts further doubts on the government's medium-term plan to cut the deficit to 3% by FY2021.
The assumption of 20% revenue growth in the current fiscal year looks optimistic given the year-to-date (April-November 2018) growth of 'only' 3.4%. The expectations of sustained strong revenue growth, about 15%, in FY2020 also remain at risk as the political uncertainty and the global economic slowdown weighs on domestic businesses and India's GDP growth. On our forecast GDP growth is likely to dip below 7% in the next financial year.
The real question is will these populist measures will help the incumbent government remain in power for a second term?
The government's view of the economy remaining on a solid growth path and turning into a $5tr economy in the next five years and $10tr in next eight years appears to be ambitious as a large number of young people struggle to find jobs. The latest reports of a 45-year high unemployment rate of 6.1% in the last year is a shot in the arm for the government that's basking in the glory of an economy being among the fastest-growing economies in the world.
The INR 750bn farmer support package may look like a big initiative on the part of the government, though the INR 6,000 ($85) per year assured income to a farmer isn't going to be much of a boost to his living standard, and that could undermine the drive to double farmers' income by 2022.
Disclaimer: This publication has been prepared by ING solely for information purposes irrespective of a particular user's means, financial situation or investment objectives. The information does ...
more