Hungary: Labour And Equipment Shortages Hit Production
We had a glimmer of hope after the latest German industrial production data surprised on the upside. But Hungarian industry posted only a mediocre 0.3% month-on-month growth rate in October, translating into a 2.7% yearly drop based on working-day adjusted data.
Photo by Sam Moqadam on Unsplash
Volume Of Industrial Production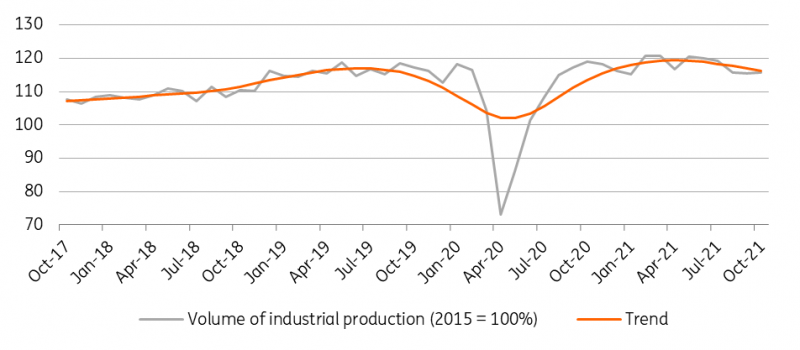 Image Source: HCSO, ING
However, the fall from 2020 levels is the smaller issue here as the industry is also showing much lower output volume compared to 2019 and has been in a downward trend since the summer. The press release from the Statistical Office revealed that growth was measured in most manufacturing sub-sectors, including the food industry. But car and electronics manufacturing is still suffering and showed a drop in production.
So it's increasingly clear that the smaller sectors in Hungarian industry are unable to punch above their weight. And if the two big sectors are underperforming, this is just too big a burden for the others to carry. At least the causes are clear; equipment shortages, though based on the latest Eurostat survey, there is more going on.
Factors Limiting Production (%)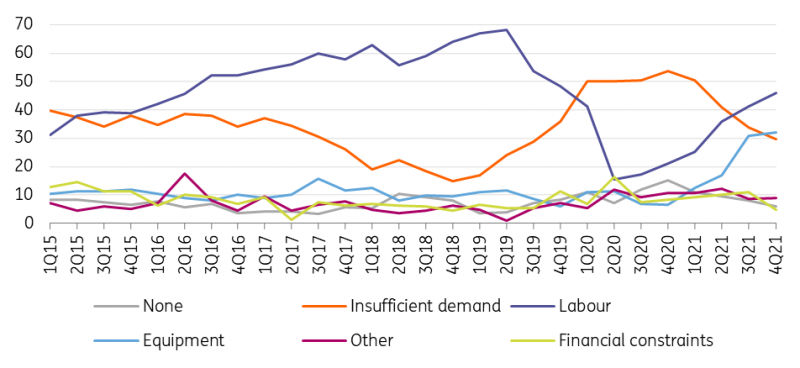 Image Source: Eurostat, ING
Yes, the obvious reason behind the drop in output in cars and electronics is the global shortage of semiconductors and other spare parts. This is reflected by the record high share of companies complaining about a lack of equipment. But this is only the second most important factor limiting production. The most important reason is due to labour shortages. This also explains why other sectors are unable to counterbalance the bad performance in car and electronics manufacturing. The demand is there, and equipment may not be an issue for other sectors, but they are suffering from a lack of workers.
Manufacturing PMI And Industrial Production Trends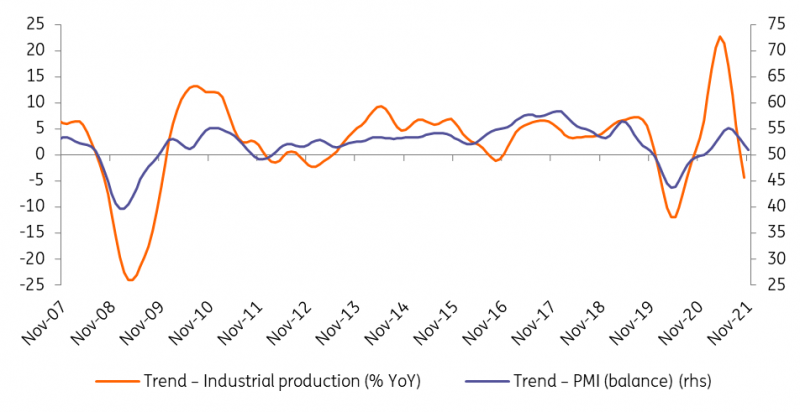 Image Source:HALPIM, HCSO, ING
Disclaimer: This publication has been prepared by ING solely for information purposes irrespective of a particular user's means, financial situation or investment objectives. The information ...
more