Hungary: April Brings Minor Relief For The Budget
The budgetary performance improved in April, posting a monthly surplus. With that, we see the exact same pattern as in 2020. Authorities will continue to provide fiscal support, raising the chances of overheating.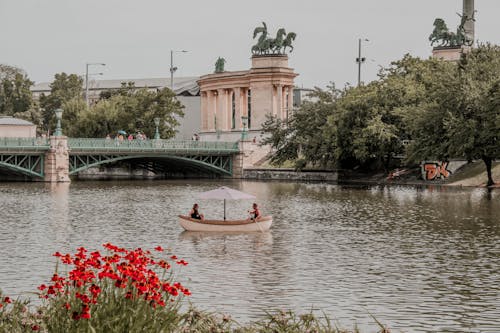 The Hungarian budget posted a HUF 100.5bn surplus in April 2021 after accumulating a significant deficit through the first quarter of the year. With this improvement, the year-to-date deficit is sitting at HUF 1043.6bn. Compared to the new cash-flow based deficit target (HUF 3990bn), the government sits at 26% of the full-year plan.
Cash-flow based year-to-date central budget balance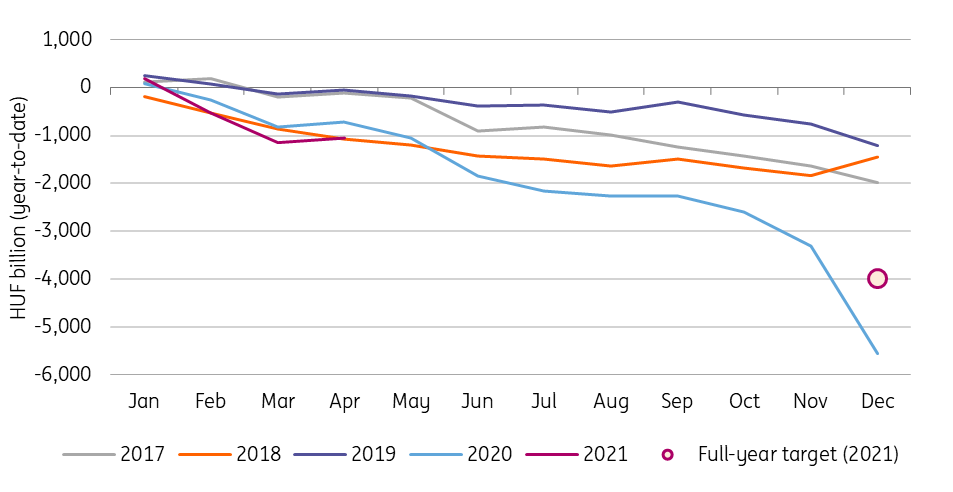 Source: Ministry of Finance, ING
The April improvement can be tied to some one-off factors, like the earlier-than-usual transfer of family allowances (transferred late March instead of April due to the Easter holiday). Other than that, the partial reopening of the economy probably translated into stronger economic activity, boosting revenues. Unfortunately, the preliminary budget report didn't contain any detail about the revenue side.
On the other hand, the Finance Ministry highlighted that it has spent almost HUF 400bn on pandemic defense measures through the first four months of this year. Moreover, it probably continued pre-financing EU programs, although the press release didn't contain any data on that adding to the total deficit.
Referring to the updated 2021 budget, the ministry reassured markets that despite the increased 7.5% deficit-to-GDP target, debt relative to GDP will decline. However, here we need to point out a discrepancy. The updated 2021 budget contains a HUF 2288bn cash-flow based deficit figure, while the latest convergence program (sent to Brussels late April) contains a HUF 3990bn cash-flow based deficit. We see the latter as being the fair figure, as the Fiscal Council also accepts this as the new deficit goal.
Finally, it seems that the ministry is inclined to keep its feet firmly on the accelerator. Finance Minister Mihály Varga said in an interview that he sees fiscal policy supporting economic activity through 2023. This means we can't expect the fiscal authorities to start a major consolidation process anytime soon, which raises the possibility of an overheated economy, with high and rigid inflation. The National Bank of Hungary must now be more vigilant than ever before.
Disclaimer: This publication has been prepared by the Economic and Financial Analysis Division of ING Bank N.V. ("ING") solely for information purposes without regard to any ...
more