Hungarian Labour Market Metrics Improve Even More
In addition to the unemployed, the underemployed and the inactive labour force are also counted as the potential labour reserve. Due to statistical methodology issues, the potential labour reserve could better explain the labour market situation. Based on this calculation, the adjusted unemployment rate could be around 7.7%.
This ratio is coming from the number of the unemployed plus inactive labour force who want work or unable to start immediately compared to the number of labour market participants. In March, the adjusted unemployment rate was still 0.75ppt higher than a year ago and 2.4ppt higher than the all-time low reading recorded in late 2019.
The official and adjusted unemployment rates (%)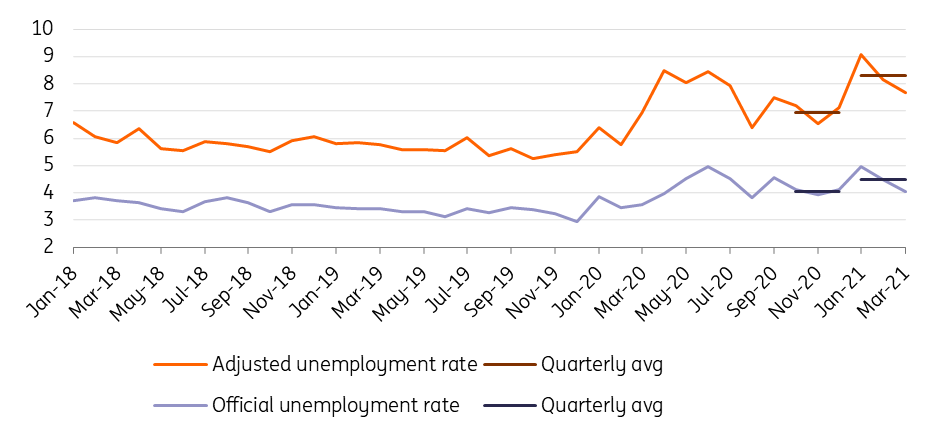 Source: HCSO, ING
The number of employed increased by 65.8k MoM, while the number of unemployed reduced by 19.4k. This means the Hungarian labour market gained roughly 46k participants, in just one month, again depicting the flaws of the official unemployment statistics.
Regarding the big picture, despite the upside surprises in February and March, we still believe that labour market developments will impact consumption and GDP growth in a negative manner in the first quarter.
The reason is simple: the official unemployment rate stagnated in 1Q21 compared to the last quarter of 2020, while the adjusted unemployment rate increased. The number of employed decreased on a quarterly basis and wage growth also slowed down.
Disclaimer: This publication has been prepared by the Economic and Financial Analysis Division of ING Bank N.V. ("ING") solely for information purposes without regard to any ...
more