Hedge Funds Dumped Chinese Stocks At A Record Pace, Setting Stage For A Furious Rebound
Late last week, when observing the stunning collapse in the most popular "hedge fund VIP" basket, whose 6-month performance now matches its worst stretch on record following the Lehman bankruptcy...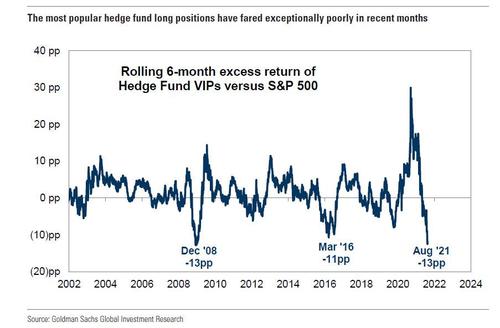 ... we pointed to Chinese stocks as one of the key culprits, with Goldman noting that one-third of hedge funds in Goldman's analysis held a China ADR in their long portfolio at the start of 3Q, contributing to the recent headwinds against hedge fund returns. Specifically, since the middle of February, a basket of China ADRs (GSXUCADR) has declined by 55%, with all but one of the stocks generating a negative return (UXIN being the exception) and 40 of the 46 stocks declining by more than 20%.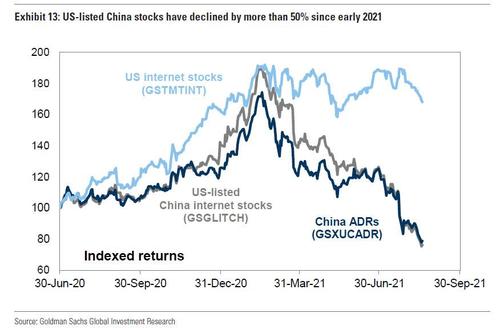 Naturally, with Chinese stocks continuing to slide, many were curious if hedge funds retained their Chinese exposure.
Well, courtesy of Goldman's Prime Brokerage we now know the answer, and it is a decisive no. But first, some weekly performance stats from Goldman prime focusing on Asia hedge fund exposure:
Performance Estimates (WoW as of 20th August 2021): Steep performance drawdowns last week as well as for the MTD period amid continued regulatory concerns
Asia Fundamental LS -2.4% vs. MXAP -4.4%
Asia managers were down -2.4% last week as MXAP was down -4.4%. Along with beta, the main drivers of negative returns were Asset selection, Volatility, country tilts (China), and Concentrated Longs.
MTD -1.3% vs. MXAP -3.1%.
YTD -1.6% vs. MXAP -3.3%.
China Fundamental LS -3.2% vs. MSCI China -7.8%
After a few relatively calm weeks at the beginning of the month, China managers experienced a steep negative performance of -3.2% as MSCI China was down -7.8% last week. Main Drivers of negative performance were beta, Volatility, Concentrated and Crowded Longs, and short-term momentum.
MTD -3.9% vs. MSCI China -7.6%.
YTD -5.1% vs. MSCI China -19.0%.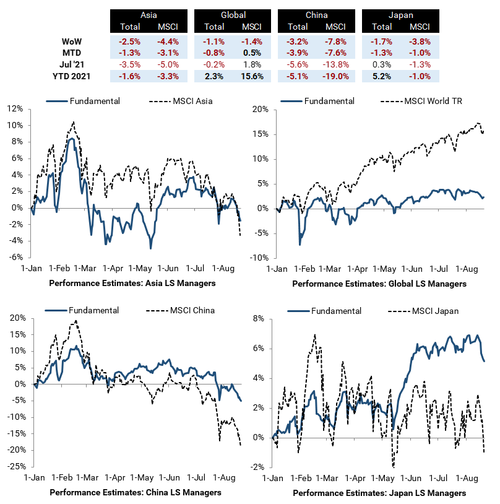 In light of these massive drawdowns, it is then hardly surprising that trading flows were striking, and according to Goldman, last week saw the second-highest weekly net selling for Asian equities in over 5 years, the highest ever selling for EM Asia, while Asian equities in total, saw record weekly net selling flows last week.
Disclosure: Copyright ©2009-2021 ZeroHedge.com/ABC Media, LTD; All Rights Reserved. Zero Hedge is intended for Mature Audiences. Familiarize yourself with our legal and use policies ...
more