Global Doves Expire: China's Big 3 Stats Put To Rest RRR Myths
The Chinese are not trying to restart robust economic growth. Rather, it's pretty clear what they're after is managing decline. If that's really possible. The direction for China's economy is out of anyone's hands, therefore the best that can be done is to try to keep it from spiraling out of control in a Japan 1989-type scenario.
There is resignation in all these numbers as Economists have their myths busted. Rebalancing? Nope. Green shoots? Not really. Stimulus?
The RRR's, as I've been writing since they first re-appeared early last year, are not it. They are, at best, a haphazard response to direct monetary constraint imposed upon the PBOC and therefore all of China by Euro$ #4. When you view these measures in that context, the Chinese economic statistics make sense. Nothing at all unexpected here.
I wrote back last April, at the appearance of the first RRR in the latest eurodollar cycle:
China's central bank isn't some all-powerful wielder of supreme monetary power, Bernanke's printing press, it is almost a bystander trying desperately to react to forces entirely beyond its control.
And since all this predates "trade wars" by a good long while, in light of serious weakness all across China's Big 3, we have no green shoots, no stimulus, and no rebalancing. Not a single dove in sight.
This is the eurodollar's world, we are all just trying to live in it.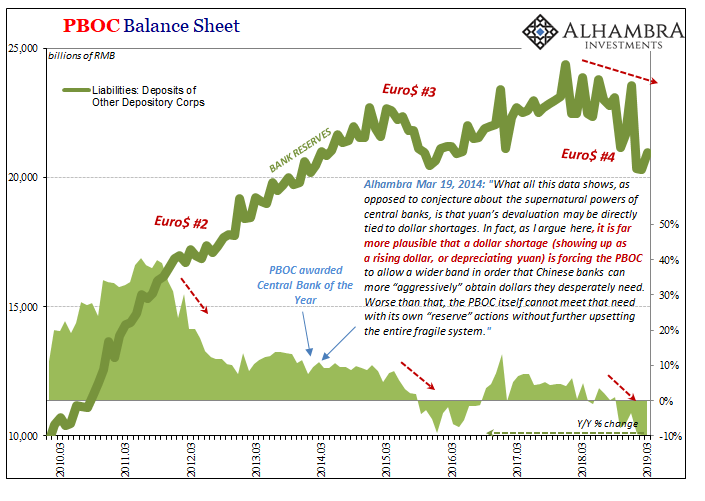 Disclosure: This material has been distributed for informational purposes only. It is the opinion of the author and should not be considered as investment advice or a recommendation of any ...
more