Global Doves Expire: China's Big 3 Stats Put To Rest RRR Myths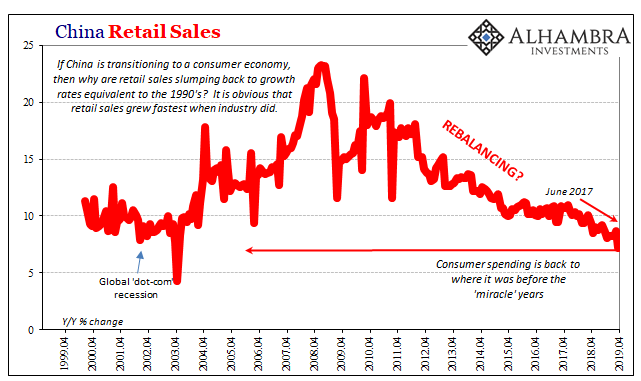 Like with most things Economists claim, there isn't any evidence to support them. Despite "stimulus", despite rebalancing, retail sales in the month of April rose only 7.2%. That's the worst number, by far, since May 2003 and really since the Asian flu of 1998 and 1999.
Rather than an internally-based economic transition, the pre-miracle China is emerging. This is very bad news and not just for the Chinese.
For example, clothing sales contracted last month for the first time since the Great "Recession." As noted recently, China's consumers aren't buying cars anymore and haven't for almost a year. In 2019, they've begun to cut back on regular household items such as personal care products. These are the kinds of signals suggesting deepening macro woes and not just in the one month.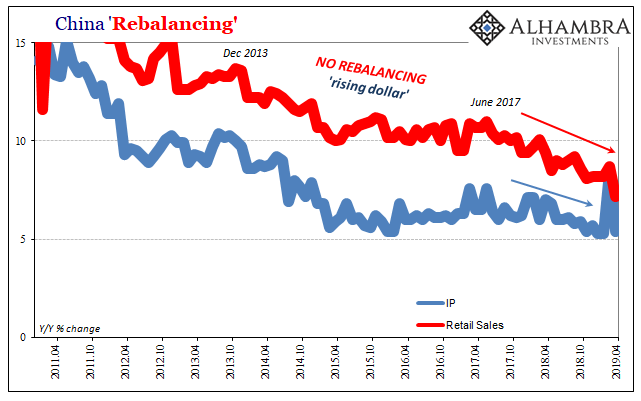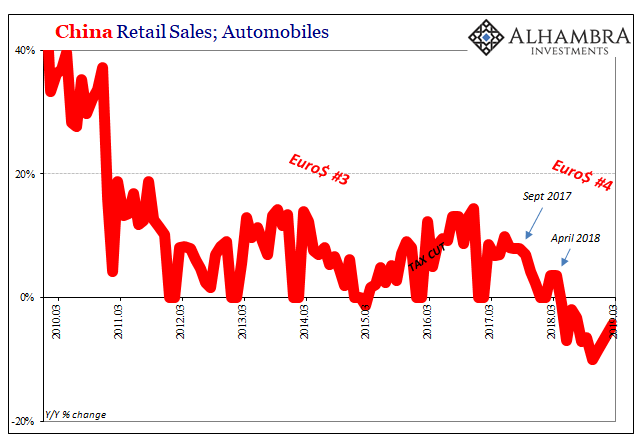 Where you would most expect to find results of RRR "stimulus" is in the most credit-sensitive economic sectors. Capital investment, for one, depends heavily on China's banks to extend loans and buy up bonds. If the PBOC is handing Chinese banks a lot of what looks like extra liquidity, orthodox theory expects that Fixed Asset Investment (FAI) would benefit almost directly.
Instead, the only acceleration in FAI we find is through state channels. Overall FAI slowed in April on an accumulated basis, down to 6.1% from 6.3% in March. The reason was private investment.
Since the start of the year, growth in this crucial piece of China's economy has continued to decelerate. Urban, middle-class China was built on Private FAI. Accumulated year-to-date, it was up just 5.5% last month, down from 6.4% in March. For the month of April alone, Private FAI increased by just 3.8% year-over-year.
It used to be that 20% in a single month was alarming.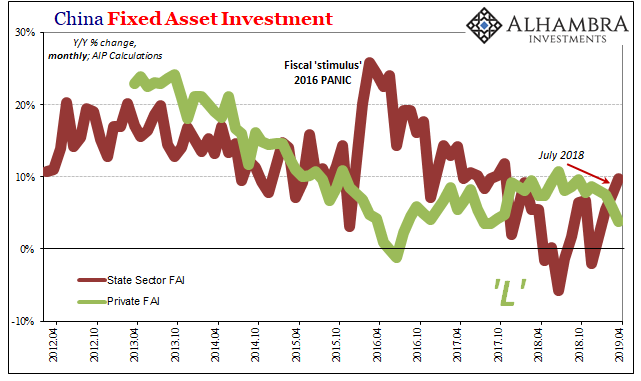 Thus, we have the two parts of FAI moving in opposite directions. As the private economy slows substantially, Beijing is ramping up fiscal stimulus in addition to whatever it is the PBOC is actually doing. But it's not a huge program. This is nothing like early 2016, much more modest suggesting the official motivation is contrary to Western imagination.
Disclosure: This material has been distributed for informational purposes only. It is the opinion of the author and should not be considered as investment advice or a recommendation of any ...
more