Global Doves Expire: China's Big 3 Stats Put To Rest RRR Myths
The Fed has its pause. The ECB is going to conduct another T-LTRO. But of all the central bank responses to the "unexpected" global weakness of late 2018, the Chinese's was supposed to be the leader. The most forceful pushback against a worldwide downturn was reported to have been the PBOC's "powerful" RRR cuts. China's central bank conducted two of them in January alone.
China's economic data in 2019, however, is putting to rest more than just the myth of RRR "stimulus." There's rebalancing. Green shoots. All of them up in flames now one-third of the way through this year.
Weakness not only persists, it grows worse as if dovish central banks don't matter. They don't.
Arguably the greenest shoot of the year belonged to Chinese Industrial Production. Last month, for March 2019, China's National Bureau of Statistics (NBS) reported growth of 8.5% year-over-year. It was the first better than 8% in almost five years. Together with a PMI reading springing back above 50, for (too) many it was confirmation the RRR's were surely working.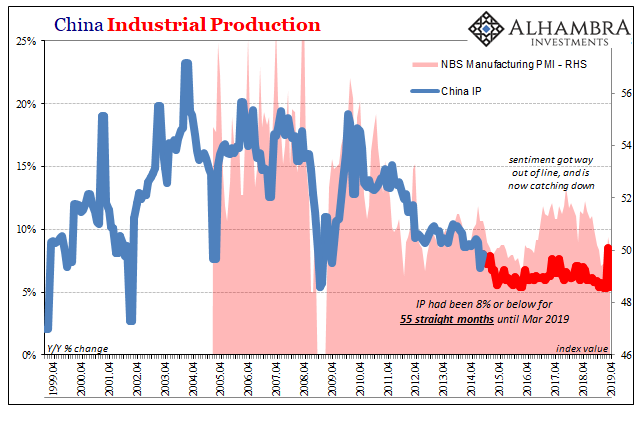 Proving instead to be a clear outlier, IP in April 2019 gained only 5.4% year-over-year. It's another month very near the weakest on record. Chinese industry expanded by only 5.3% in the first two months of this year, the lowest since the early 2000's.
But if China's manufacturing woes aren't being cured by PBOC action, then rebalancing is supposed to offset external problems. For quite a lot of years now, people have been making the claim that this country is in transition. A very beneficial and opportunistic one. Echoing the Communist government, they do always fall right in line when technocrats speak, Economists have said China's economy is becoming more internally oriented.
This shift toward a modern, service-based system more like the mature Western economies, means a very different source of growth and strength. Even if industry falters, hundreds and hundreds of millions of now middle class Chinese consumers will more than make up for it.
Disclosure: This material has been distributed for informational purposes only. It is the opinion of the author and should not be considered as investment advice or a recommendation of any ...
more