GBP/USD: Sterling May Get Shots In The Arm, Powell Could Pummel The Dollar
Replacing tiers for fears – GBP/USD dropped as the UK entered a harsh lockdown to prevent hospitals from collapsing due to the new virus strain. US Democrats' win of the Senate sparked a mixed dollar reaction. Both stories are set for follow-ups and US retail sales are also of high interest after the Nonfarm Payrolls.
This week in GBP/USD: Lockdown 3.0 hits the pound hard
Back to the spring lockdown: Prime Minister Boris Johnson made a second somber national address in as many weeks, this time announcing a harsh shuttering. The government responded to the surge in cases, deaths, and hospitalizations, with the latter surpassing levels seen in the first wave.
Experts have become more convinced that the new and more contagious British strain of COVID-19 is behind the rapid spread. More worryingly, some fear that a separate South-African variant is resistant to vaccines – while Pfizer has said its formula beats the virus. The pound struggled amid these depressing developments.
Covid infections in the US, the EU, and the UK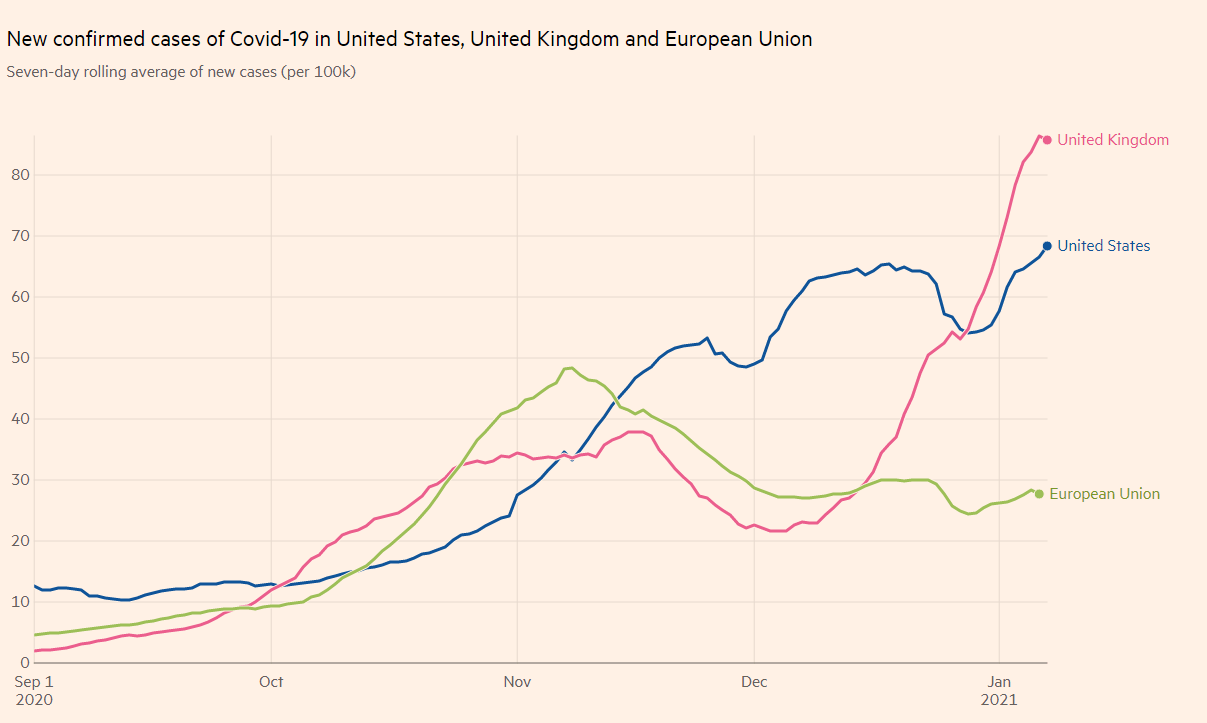 Source: FT
Johnson announced February 15 as a potential exit date from the lockdown, yet that depends not only on virus statistics but also on the vaccine's distribution. The UK began administering the homegrown University of Oxford/AstraZeneca jabs – yet the pace remains frustratingly slow. Britain was the first Western country to deploy the Pfizer/BioNTech immunization and use Moderna's vaccine.
America's coronavirus situation is similar – a holiday-related increase in covid statistics and anger at insufficient vaccine inoculations. The US is injecting Moderna's jabs in addition to those by Pfizer.
Democrats won both Georgia runoffs, securing effective control of the Senate – and enabling President-elect Joe Biden to pass another generous stimulus package. While markets cheered the news, the safe-haven dollar recovered from the lows. Additional government expenditure means additional bond issuance and investors sold Treasuries. In turn, higher yields made the greenback more attractive.
Disclaimer: Foreign exchange (Forex) trading carries a high level of risk and may not be suitable for all investors. The risk grows as the leverage is higher. Investment objectives, risk ...
more