GBP/USD: Resuming The Rally Toward 1.40? Biden May Compound Bailey, Vaccines Eyed
GBP/USD has been weathering dollar strength on upbeat comments from the BOE's Bailey, UK vaccine rollout.
Biden's inauguration, immunization figures and central bank speculation are critical.
Mid-January's daily chart is painting a mixed picture for the pair.
"Controversial" is what Bank England Governor Andrew Bailey called negative interest rates – providing sterling ammunition to fight dollar strength. Both the US and the UK are ahead in vaccination, which remains critical and competes for influence with President-elect Joe Biden's inauguration.
This week in GBP/USD:
Yet another Bailey bailout: The BOE has come out of the shadows and boosted the pound by all but shelving the option to set sub-zero borrowing costs. The specter of negative rates had been weighing on sterling since the summer – not anymore.
Another positive factor for sterling was a drop in UK coronavirus cases. The harsh lockdown effect – to fight the new, highly transmissible variant – is bearing some fruit. Unfortunately, deaths remain high on both sides of the Atlantic.
Covid infections in the US, the EU and the UK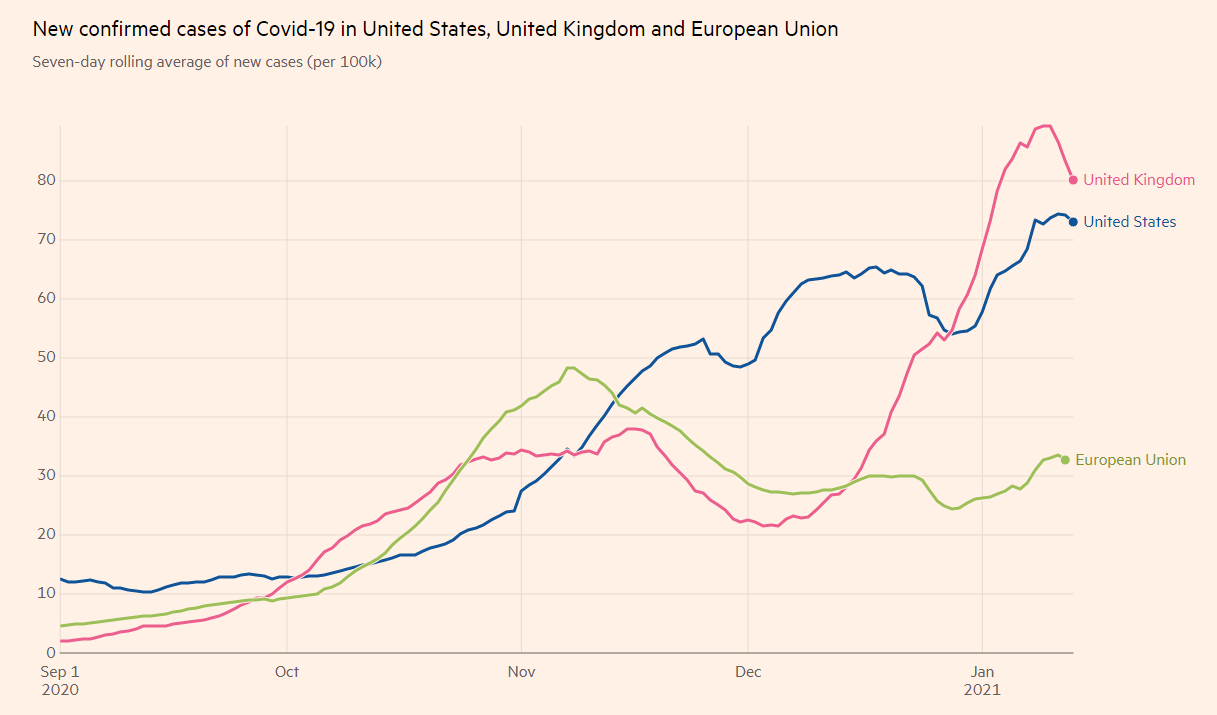 Source: FT
The upshot is that both countries have ramped up their vaccination campaigns. The UK has begun inoculating in pharmacies and is ahead of the whole of Europe. Prospects of an early exit from the pandemic have also supported sterling.
For broader markets, the ebb and flow in US bond yields had the greatest impact on the dollar. Investors sold bonds in response to Biden's proposed $1.9 trillion stimulus package and as some Federal Reserve officials played around with tapering the bank's bond-buying scheme in response to improving conditions.
However, several auctions resulted in strong demand for US debt, pushing returns and the dollar lower. Moreover, Jerome Powell, Chairman of the Federal Reserve, put an end to the taper talk by reaffirming the Fed's commitment to loose monetary policy.
Disclaimer: Foreign exchange (Forex) trading carries a high level of risk and may not be suitable for all investors. The risk grows as the leverage is higher. Investment objectives, risk ...
more