GBP/USD: Pound Pops As The BoE Goes Hawkish; Look To The Crosses
BOE GOES HAWKISH AT SUPER THURSDAY
At this morning's Bank of England Super Thursday event, many were looking for the bank to begin moving to a more hawkish stance as rising inflation in the UK continues well-above the bank's 2% target. And while the BoE would likely want to take a passive approach, instead hoping that the recent strength in the currency helps to soften those rising prices, there's little evidence of inflation slowing down and this will likely compel them into action later this year.
This showed up this morning when the BoE shifted expectations towards two rate hikes this year from the previous expectation of one. The bank also increased both inflation expectations and growth forecasts for the coming periods; all-in-all producing a fairly hawkish outlook at this morning's rate decision. This equated to a near-immediate pop in the Pound as the currency surged off of the confluent support zone that we looked at yesterday. Prices rose to the vaulted psychological level of 1.4000, at which point a bit of resistance started to show before bulls were able to nudge prices-above.
GBP/USD 15-MINUTE CHART: JUMP FROM CONFLUENT SUPPORT, ABOVE 1.4000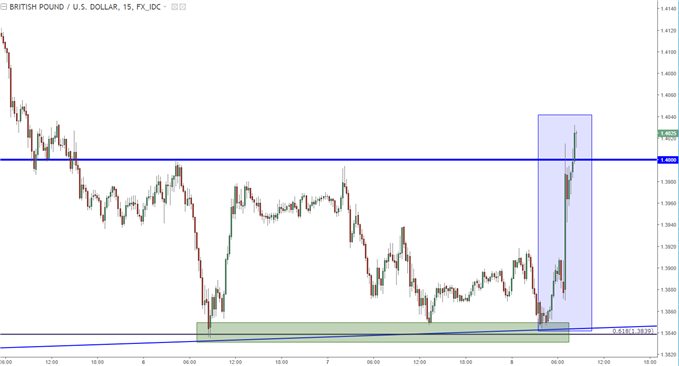 Chart prepared by James Stanley
CAN THE GBP/USD BREAKOUT SUSTAIN?
The big question at this point around Cable is whether strength can continue, and the answer to that question will likely be determined by whether this recent strength in the US Dollar can hold or whether it flares out as most USD-strength scenarios over the past year have. We looked at the US Dollar attempting to breakout from the 90.00 level on DXY yesterday, which happened shortly after we published. But that strength really didn't slow down around resistance, as the breakout continued to run until prices in DXY had moved up to 90.40. With DXY now pulling back, the big question here is whether we see support show up at old resistance for the topside move to continue.