FTSE 100 Looks To Brexit Vote, Dow Jones To Retail Sales And CPI Data
FTSE 100 AND DOW JONES OUTLOOK:
The FTSE 100 will face significant uncertainty in the mid-week trading days should Tuesday's withdrawal agreement vote fail
The Dow Jones will look to US CPI data due Tuesday, which could influence Fed policy
As it has in the past, Brexit will be the headline theme for the FTSE 100 next week. UK members of parliament are slated to vote on Theresa May's withdrawal agreement on Tuesday. Should the vote fail, a subsequent "no-deal" vote will be put to members of parliament. In the event both votes fail, an extension of Article 50 will be triggered on Thursday.
FTSE 100 PRICE CHART: 4-HOUR TIME FRAME (DECEMBER 2018 TO MARCH 2019) (CHART 1)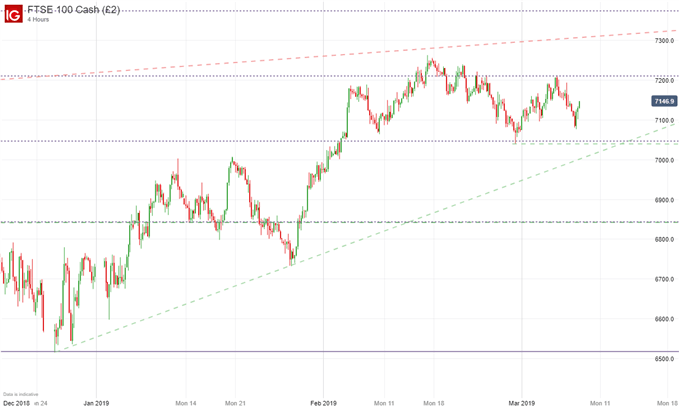 Therefore, the British equity index will face significant uncertainty. Should the Article 50 extension trigger, the prospect of prolonged Brexit negotiations may weigh on the FTSE 100. Whatever the outcome, the subsequent reaction in the FTSE 100 may influence the Dow Jones.
DOW JONES PRICE CHART: 4-HOUR TIME FRAME (OCTOBER 2018 - MARCH 2019) (CHART 2)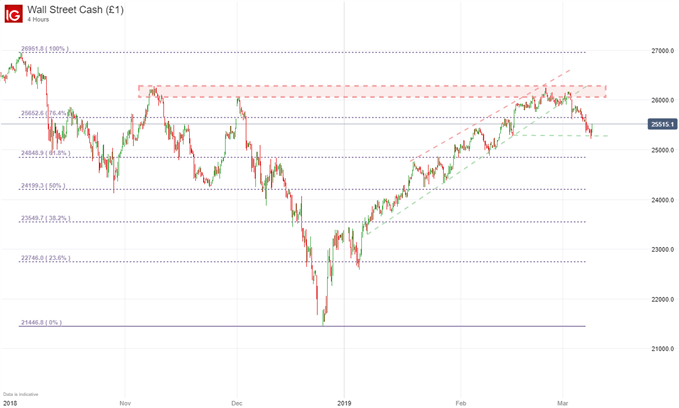 While Dow traders will keep a watchful eye on Brexit, the index will first look to US retail sales data on Monday. Last month's retail sales data offered a dismal outlook for consumer spending and weighed on the industrial average.
On Tuesday, the index will look to US CPI. When taken at face value, the data is relatively insignificant for equities, but the influence it can exert on the Federal Reserve's policy cannot be overstated. A strong CPI print could be perceived to ignite a more-hawkish Federal Reserve, which would likely prove troublesome for the Dow Jones.
An in-depth commentary on the central bank's policy may be offered Sunday night with the airing of a TV interview with Fed Chairman Powell accompanied by previous Fed Chairs Yellen and Bernanke. Given the platform it is unlikely major changes to current policy will be discussed, but insight on the Fed's decision-making process may be offered.
Disclosure: Looking for a technical perspective on equity? Check out